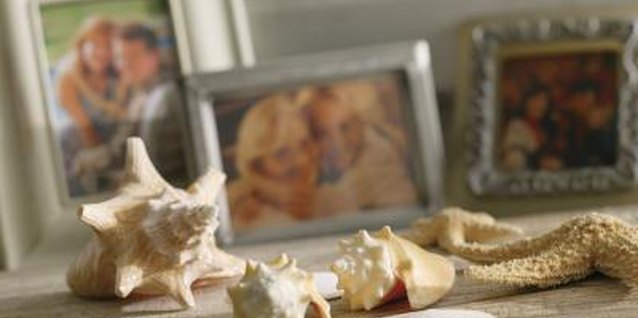 Make your sand and rock centerpiece stand out from the rest by starting with a vase in a non-traditional shape -- a rectangular or square, for example. Add interest by working in a few unexpected elements such as a softly burning candle, small cactus or even a few pieces of coral, shells or sand dollars from your most recent summer vacation. Centerpieces inspired from nature fill a space with feelings of simplicity and peace, and when you drop in items like these that have special meaning, they also bring memories of good times shared with friends and family.
1 Wash and polish your rectangular glass vase to remove fingerprints and the UPC label; position it in the center of a workstation covered with newspaper.
2 Fill your container one-third full of white beach sand and use a spoon to distribute it evenly. Make a nice flat layer of sand.
3 Add a layer of river rock to your container by carefully spreading it, a handful at a time, over the sand. Make your layer of river rock about twice as deep as your sand layer, to within about 3 inches of the top of your rectangular glass vase.
4 Rest a piece of white coral and one or two bleached sand dollars off to one side, on top of the river rock. Carefully nestle a small glass votive down into the rock layer on the other end, and fill it with a coral-colored votive candle.
Items you will need
Rectangular glass vase

Newspaper

White beach sand

Spoon

River rock

White coral

2 sand dollars

Votive candle holder

Votive candle, coral-colored
Tip
Experiment with your arrangement, switching out the candle for a live succulent plant, a piece of driftwood or even a small garden ornament such as a tiny resin turtle.
Warning
Exercise care when adding the river rock to the glass container so that you don't crack or chip your vase. Place the rocks carefully a few at a time with your hand. Never pour it in straight from the bag.
Photo Credits
Comstock/Comstock/Getty Images