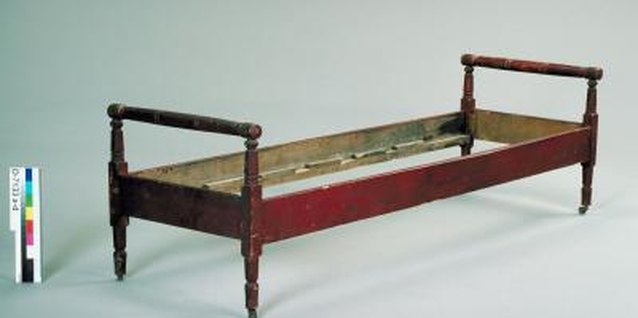 An easy way to revive the look of your bedroom and its furniture is by refinishing your bed frame. Tired furniture takes on new life when you use distressing and antiquing techniques to bring old pieces into a new decorating scheme. This relatively large job is surprisingly easy and lets your furniture wear its age gracefully. Distressing can help to integrate furniture of any period and design into your new bedroom decor.
1 Lay drop cloths in your work space. You will need them through several phases of painting.
2 Unscrew or unbolt the bed frame, using a screwdriver and pliers. Put all bed frame hardware into the plastic bag and set it aside.
3 Wash the headboard, footboard, side rails and bedposts, if any, with grease-removing cleaner. Dry thoroughly.
4 Roughen all surfaces to be painted with 220-grit sandpaper so primer paint will adhere tightly. Wipe off or vacuum sanding dust.
5 Apply a smooth, thin coat of primer paint to all surfaces, using the 2-inch paintbrush. Let it dry for four to eight hours. Apply a second coat and let it dry completely.
6 Apply streaks or splotches of accent-color paint in areas such as headboard edges, using the 1-inch paintbrush. When you sand or scratch the topcoat, small amounts of this color will be randomly revealed. Let it dry thoroughly.
7 Apply a smooth coat of topcoat paint. Let it dry completely. All pieces should be thoroughly dry before sanding.
8 Rub the sanding block along the edges of each piece of the frame, with particular attention to the highly-visible headboards and footboards. Sand across flat areas and work sandpaper into any incised, carved or raised trim to highlight it. Wipe off sanding dust as you work so that you can see the effects of your work clearly.
9 Add further distressing by tapping the screwdriver with a hammer against the wood or scratching across it and sanding it again, if desired. Remove all sanding dust. Create even stronger effects by rubbing the file or slapping the chain against it.
10 Spread a thin coat of wood stain around the edges of each piece, using the 1-inch paintbrush. Wipe nearly all of it away with rags or paper-towels, to create further highlights. Allow it to dry completely. This is sometimes called tea-staining.
11 Apply one or more smooth, even coats of clear polyurethane for maximum protection of your distressed finish.
Items you will need
Drop cloths, old shower curtain or old sheets

Work clothes

Latex or other thin work gloves

Screwdriver, pliers or wrench

Recloseable plastic bag, 1-gallon size

Wood-safe grease-removing cleaner, sponge and paper towels

Sandpaper, 220-grit

Small hand-sanding block

Vacuum cleaner or whisk broom and dustpan

1 quart primer paint, color of choice, latex/acrylic

1 pint accent-color paint, latex/acrylic

1 pint topcoat paint in a main decor color, latex/acrylic

Paintbrush, 1-inch

Paintbrush, 2-inch

1/2 pint oil- or water-based wood stain

Rags or paper towels

Satin-finish clear polyurethane, (optional)

Coarse-toothed wood file, hammer, 1-foot length of metal chain, (optional)
Tips
Choose paint colors that contrast subtly or strongly with each other. Choose an accent color that already exists elsewhere in your decor to make the new finish part of your color scheme.

Although the application of polyurethane is optional, it prevents the pillows you use for reading or watching TV from wearing away your work.
Warning
Keep your work area well ventilated to avoid breathing paint, stain and poly fumes.
Photo Credits
Jupiterimages/Photos.com/Getty Images