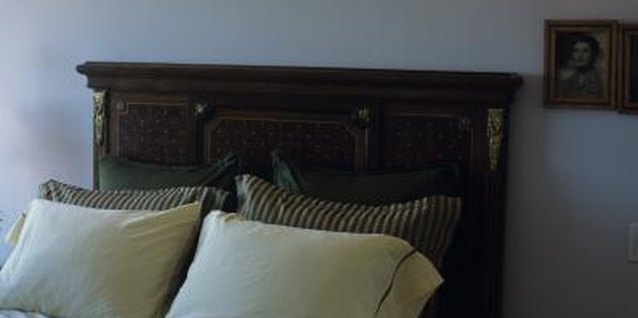 Antique furniture is charming and cute in a room with shabby-chic or vintage decor, and if you have children, you don't have to worry too much about wear and tear on a piece that already shows some hard living. If you inherited a lot of your grandmother's furniture or know of a good secondhand shop, fitting out your home with antiques is relatively easy. Sometimes, though, trying to find a specific piece of antique furniture that you need, such as a headboard, can be tough, and antiques can get surprisingly expensive. Try distressing your own headboard instead, and save time and money.
1. Unfinished Wood Headboard
1 Paint an unfinished wood headboard an even coat of colored paint and allow it to completely dry.
2. Unfinished Wood Headboard
2 Beat the headboard with the chain; lightly dig at it with the awl and lightly hit it with the hammer. Strike in a random pattern. Cover about 5 to 10 percent of the board throughout. Chisel off a few hard edges to indicate "wear."
3. Unfinished Wood Headboard
3 Stain the headboard with a rag. Allow the stain to settle into the dents and holes. Allow it to moderately dry so that it is not quite tacky.
4. Unfinished Wood Headboard
4 Rub down the headboard vigorously with a dry rag to drag the damp stain. Pay special attention to the areas that would have more wear if it were old, such as knobs and edges. Allow to fully dry.
5. Unfinished Wood Headboard
5 Apply one final coat of satin sealer or lacquer.
6. Used Wood Headboard
1 Sand down your used headboard with the sandpaper. Rough up approximately 80 percent of the surface.
7. Used Wood Headboard
2 Paint lightly in the roughed-up areas of exposed wood. Alternatively, thin the paint with glaze to create a more transparent color that looks faded. If you want more "distress" on the wood, follow the procedures outlined in Step 2 under "Unfinished Headboard."
8. Used Wood Headboard
3 Finish with one final coat of satin sealer or lacquer.
Items you will need
New or used wooden headboard

Chain, hammer and awl

60-grit sandpaper

Chisel

1 gallon flat paint in a light color that complements your room's decor

1 gallon dark stain

1 gallon satin clear-coat polyurethane sealer or lacquer

Dropcloth

Soft rags

Large paintbrush
Tips
The base-colored coat of paint adds a layer of "history" to your new headboard. The base color peeks out through the dents and marks and keeps the white dents from looking inauthentic.

Softer wood such as fir, alder or pine work better than harder woods like oak or maple.

Experiment and have fun. Distressing furniture allows for mistakes, and they may end up adding to the character of the headboard.
Warnings
Swing your chain and beat the headboard when you are alone and any breakable items are safely out of reach.

Paint and stain in well-ventilated areas. Open windows, turn on fans or do your work outside.

Always properly dispose of paint, stain and stained rags. Contact your local waste disposal service for information.
Photo Credits
Kim Steele/Photodisc/Getty Images