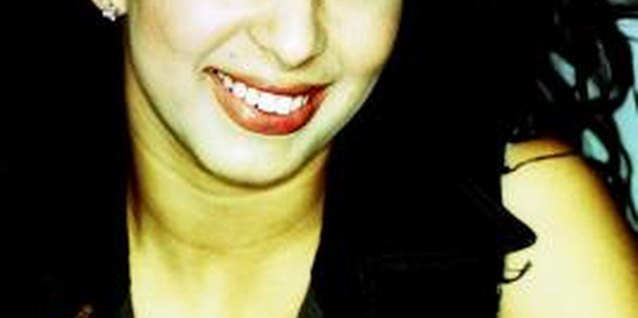 Whether you dyed your tresses black to change up your look or have been sporting a sleek black hairdo for years, you might be ready to ditch the black in favor of a beautiful shade of brunette. However, before you hit the drug store in search of your ideal hue, be aware that you must first deal with fading your black tresses. Products are available at a drug or beauty-supply store that strip the black dye from your hair, leaving it ready to accept a new shade of brunette.
1 Choose your ideal shade of brunette hair dye. For example, a medium brown is ideal for lighter skin tones. Medium skin tones look amazing sporting a lighter shade of caramel or deeper auburn brown. If you have a darker skin tone, stick to the deeper shades of brown and stay away from a lighter caramel or honey brown, instead choosing a mahogany or dark ash brown.
2 Wash your hair with a clarifying shampoo the night before you plan to strip the black dye. Apply a moisturizing conditioner to the hair and allow it to sit for 2 minutes. Rinse out the conditioner thoroughly with lukewarm water. Avoid washing your hair the same day you apply the stripper. An unwashed scalp is covered with a layer of natural oils, which protects it from the hair stripper.
3 Slip on an old shirt and a pair of rubber or plastic gloves, such as those found in the hair-stripping kit. Mix the hair stripper according to the package directions. Many kits come with a small plastic bowl and brush that is used to apply the product.
4 Apply the stripping agent according to the package directions. In many cases, this involves applying the product to everything but your roots. Allow the stripping product to sit according to the package directions before applying it to the roots. Apply the product to the roots with the brush. If any dye stripper falls on your skin, wipe it away immediately with a damp washcloth.
5 Allow the stripping agent to sit according to the package directions. You'll notice your hair begin to lighten and turn a shade of orange or ashen blonde. Don't leave the stripper on any longer than directed.
6 Rinse out the stripping agent until the water runs clear. Allow your hair to dry completely. Brush out any tangles with a wide-toothed comb. Many varieties of store-bought hair strippers permit you to dye your hair immediately. If so, apply the brunette hair dye according to the package directions. If the hair stripper advises you to wait and allow your hair to heal, follow the package directions before applying the brunette dye.
7 Mix and apply the brunette hair dye with gloved hands. Allow it to process for 20 to 30 minutes, or according to the package directions. Rinse out your hair until the water runs clear and apply the kit's conditioner, concentrating it on the ends. Leave the conditioner for at least 2 minutes.
8 Rinse out the conditioner and style your hair as usual.
Items you will need
Clarifying shampoo

Moisturizing conditioner

T-shirt

Hair-stripping kit

Wide-toothed comb
Tip
Black hair dye is sometimes difficult to remove, especially if you've been dyeing your hair black for years. If the store-bought stripper is unsuccessful, consult a stylist.
Photo Credits
Photos.com/Photos.com/Getty Images