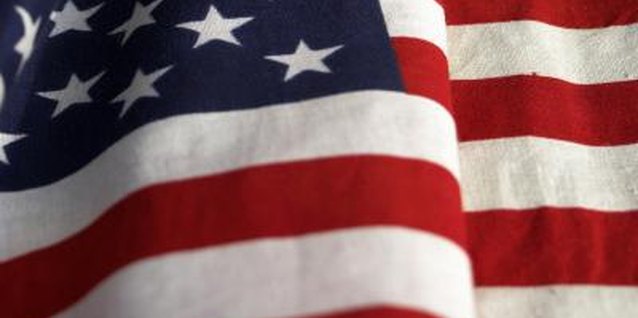 When it comes to decorating for Independence Day, Memorial Day, Flag Day or other patriotic events, you want to celebrate the red, white and blue without an excessively fussy or difficult display. Barbecues and informal gatherings are the norm for these holidays, so decorate your table with a centerpiece that is easy and casual. Your children can help create simple centerpieces with inexpensive supplies found at the craft store or dollar shop.
1 Sprinkle silver stars into the blue sand, then pour into the Mason jar until it's about one-third full.
2 Add stars to the white sand, and pour slowly into the jar to create a layer over the blue sand.
3 Combine red sand with silver stars, then layer into your Mason jar, leaving about 1inch of space below the jar's lip.
4 Position the pinwheel in the center of the jar, anchoring it by pushing the stick down into the sand.
5 Surround the pinwheel with foil sprays, angling them slightly outward so they don't interfere with the pinwheel's motion.
6 Tie a red, white and blue ribbon around the neck of the jar, forming a large bow.
Items you will need
Mason jar

Separate packages of red, white and blue craft sand

Small silver foil stars

Red, white and blue pinwheel

Foil sprays with red, white and blue stars

Red, white and blue ribbon
Tip
If you're decorating a large table, make several Mason jar centerpieces, and group them in the center of the table.
Photo Credits
Photos.com/Photos.com/Getty Images