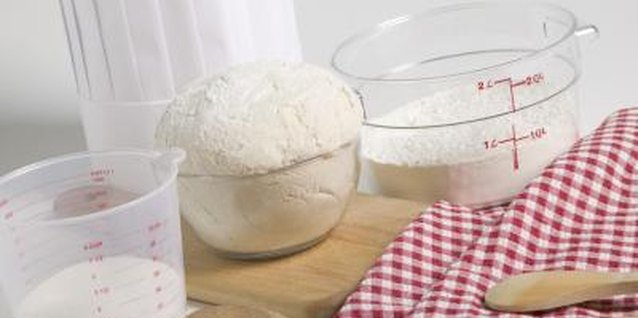 You can prevent the loss of taste and texture in foods baked with skim milk by enriching the milk with other ingredients before baking. Foods baked with skim milk have a lower fat content compared to those prepared using whole milk. As a result, they may turn out crumbly or taste dry and flavorless. You can enrich both liquid and dry skimmed milk with a variety of ingredients such as cream, butter, half-and-half, and whey protein.
1 Combine 1 part half-and-half with 3 parts skim milk to enrich it. Half-and-half contains around 10 percent fat, which increases the fat content and flavor of the baked food.
2 Mix 1 part light cream with 7 parts skim milk. If using heavy cream, add 1 part heavy cream to 15 parts skim milk.
3 Blend 2 tablespoons melted butter or margarine with 1 cup skim milk to enhance the flavor and texture of the baked foods.
4 Use whey protein to enrich skim milk powder prior to baking. Mix 4 parts whey protein with 3.5 parts skim milk powder.
Tip
Baking with 1 cup skim milk instead of 1 cup whole milk can reduce the fat content of the recipe by 70 calories, 8 grams of fat and 28 milligrams of cholesterol.
Photo Credits
Jupiterimages/liquidlibrary/Getty Images