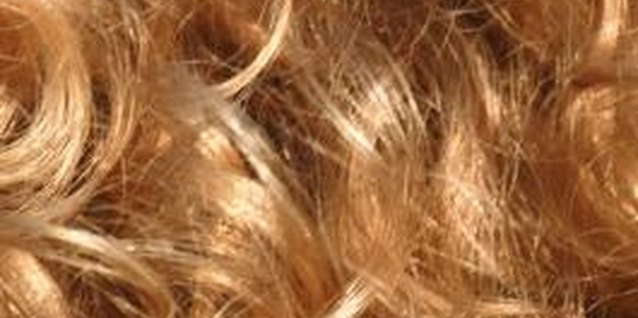 If you have naturally curly hair, you might find that your curls occasionally look dry and frizzy. If you have straight hair, you might dream of having truly extreme curls. Some tools can help curlies tame frizz, just as they can help non-curlies make curls. The key to creating the hair you want is using the right products before you curl.
1 Apply a volumizing product just before you curl. If you want to cleanse your scalp, use a spray-on dry shampoo, which also adds volume. Otherwise, squirt a dollop of volumizing mousse into your hand, and work it through your hair focusing on the roots.
2 Spray a heat protectant serum made of natural oils to your hair, adding extra to the ends of your tresses.
3 Clip back the top layer of your hair to get it out of the way. You will curl the bottom layer first, and then move on to the top layer. The curls underneath will give more volume to those on top.
4 Wrap your hair in 1-inch sections around a curling iron or wand with a 1 to 1 1/2-inch barrel. Wind the section of hair around the barrel in a spiral pattern. If your curling iron has a closing clasp, do not use it. Hold the last inch of your hair away from the wand to prevent frying your ends.
5 Let down the top layer of your hair, and curl it as you did in Step 5.
6 Spray your hair with curl-boosting, alcohol-free hairspray, and gently smooth the top layer with your hands. Avoid running your fingers through the curls to help prevent frizz.
Items you will need
Dry shampoo or volumizing mousse

Heat protectant serum

Large hair clip

1 to 1 1/2-inch curling iron or wand

Curl-boosting hairspray

Conditioner (optional)

Leave-in conditioner (optional)

Heat glove (optional)
Tips
Wash with conditioner to extend the time between shampoos, as a slight amount of buildup on your hair helps curls hold, and the natural oils from your scalp help protect from heat damage. If you want really big curls for a special event, don't wash at all for a few days beforehand. Instead, finger comb a leave-in conditioner through your curls daily, avoiding your scalp.

Products containing alcohol or sulfates can strip your curls of moisture and cause frizz. Look for alcohol and sulfate free shampoos, conditioners and styling products formulated for curly hair.

Curling irons have different barrel sizes, with smaller barrels making tighter curls and larger barrels making loose waves.

Look for a silicone-free version if you want to avoid buildup left by conditioners.
Warnings
Excess heat styling can damage your hair. Wear curls for a few days to give your hair a break from daily heat.

To protect yourself from burns, purchase a heat glove at a beauty-supply store.
Photo Credits
John Foxx/Stockbyte/Getty Images