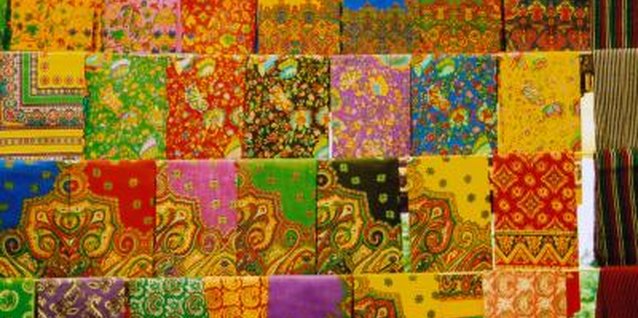 Wood is a viable material for homemade wall art, providing a durable material that lasts. Wood and fabric wall art is a means of upcycling those scrap wood and fabric pieces that have no other immediate usefulness; even tiny fabric scraps can be used to create a decoupage-style art piece. Opt for simple shapes such as a rectangle to emulate the look of an art canvas, or choose specifics such as a bird or guitar for a more playful effect.
1. Staple Method
1 Cover the work surface with a scrap sheet of cardboard to protect against both glue and scratches. Set the fabric piece face-down on the cardboard.
2. Staple Method
2 Align the wood art shape atop the fabric so it is centered. Wrap the fabric around the sides of the wood piece, pulling it taut as if wrapping a gift.
3. Staple Method
3 Staple the fabric to the back of the piece, tucking the fabric neatly around corners and edges, keeping the staples near the outer edges of the back.
4. Staple Method
4 Trim excess fabric from the back of the wood using scissors.
5. Decoupage Method
1 Cut small strips or shapes of fabric using scissors.
6. Decoupage Method
2 Cover the work surface with scrap cardboard to protect the area. Set the wood art shape atop the cardboard.
7. Decoupage Method
3 Plot a basic design by setting strips of fabric over the wood in a visually pleasing layout, remembering that the sides of the wood also require fabric. Set the fabric aside. Skip this step if working with only one fabric pattern or if going for a random design.
8. Decoupage Method
4 Brush decoupage medium over the face and sides of the wood piece using a foam brush, working in small areas if the wood is large. Apply one strip or piece of fabric at a time, smoothing it with your hands, over the wet decoupage medium. Continue the process until the entire front and sides of the wood piece are covered with fabric.
Items you will need
Scrap cardboard

Wood in desired shapes

Scissors

Fabric larger than the wood (or small scraps for decoupage)

Staple gun

Decoupage medium

Foam brush
Tips
If the fabric is so thin that the wood shows through, add a layer of a thick fabric such as canvas between the wood and the decorative fabric. Cotton batting can also be used.

Attach small screw eyes to the back of the finished wood art piece near the top, for a means of adding picture wire to hang the piece. If using a heavy piece of wood, secure it to the wall on studs, or install wall anchors in the wall prior to hanging the piece.

For a variation on the theme, cut a specific fabric shape from a contrasting fabric, such as an indigo bird for a yellow fabric background, gluing the bird over the yellow-wrapped wood using decoupage medium.
Photo Credits
Creatas Images/Creatas/Getty Images