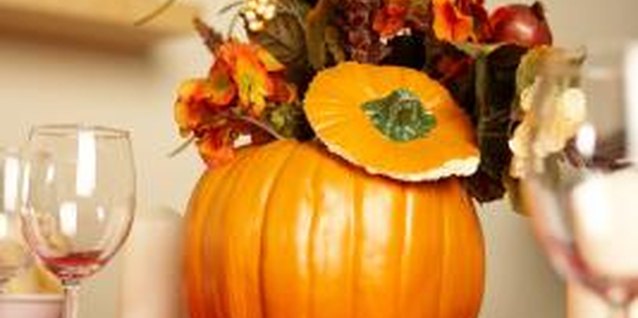 Fall is a season of gatherings that often begins with football parties followed shortly by Halloween and Thanksgiving. An autumnal centerpiece captures the celebratory mood of the season and brings a festive feel to your gatherings. Create a fall centerpiece that provides something to do with that extra pumpkin from the family trip to the pumpkin patch. You can get the kids involved and have them help make the centerpiece.
1. Making a Mumkin Centerpiece
1 Carve your pumpkin. Using the knife, cut a hole around the stem of the pumpkin that is just slightly wider than your potted chrysanthemums. Let the kids help clean out the insides of the pumpkin, ensuring that you remove all the seeds and pulp. Discard the innards of the pumpkin.
2. Making a Mumkin Centerpiece
2 Remove the flowers from the pot and place inside the pumpkin. Add extra potting soil if necessary. Wipe off any dirt from the pumpkin.
3. Making a Mumkin Centerpiece
3 Tie a bow around the center of the pumpkin using craft ribbon. Use a dot of heavy-duty glue such as epoxy glue to hold the bow in place.
4. Making a Mumkin Centerpiece
4 Place the pumpkin in the center of your table. Surround with tea lights.
Items you will need
Pumpkin, 12 to 16 inches in diameter

Carving knife

Spoon

6- to 8-inch potted chrysanthemums or other fall flowers

Potting soil

Tea lights

Craft ribbon

Epoxy glue
Tips
Look for a pumpkin that is appropriate for your table size. Bigger pumpkins look best on bigger tables or on coffee tables that you don't use for dining. Smaller pumpkins are suitable for dining tables.

Substitute silk flowers for live flowers if desired. To do so, add a small block of florist foam into the carved pumpkin so you can insert the stems.

Wired ribbons hold their shape better than non-wired ribbons. Pick a color or a pattern to your taste. Orange, white and green plaid is very pretty for fall.
Warnings
Use caution when carving the pumpkin. You will need a very sharp knife. Do not let children handle the knife.

Be careful when applying the glue to avoid contact with skin.
Photo Credits
Jupiterimages/Photos.com/Getty Images