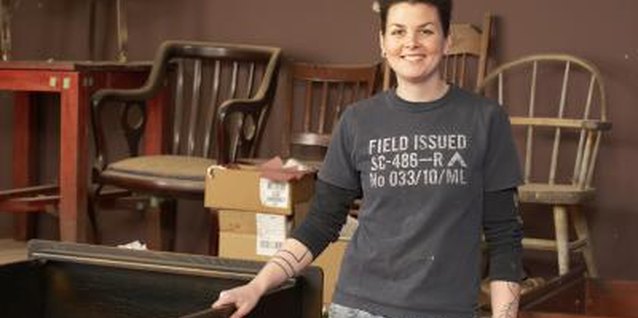 A big dent in a tabletop can be caused by a number of mishaps, though extremely large dings are usually caused by dropping something of significant weight on the table. While it is possible to repair the damage without refinishing or painting the entire tabletop, you're likely to see some uneven coloration on the surface, and will probably be more satisfied with a complete restoration.
1 Prepare the table for refinishing by cleaning it with a degreasing agent such as dishwashing detergent. Remove any splintered wood from the dent.
2 Sand down or remove existing paint or varnish using a commercial paint stripping agent. You can use a metal spatula to help remove stubborn layers of varnish or finish.
3 Heat a shellac stick that's the same color as your tabletop using an alcohol lamp, Bunsen burner or a hot putty knife. All items can be found at a hardware store, woodworking shop or furniture restoration business. Follow the manufacturer's heating guidelines for melting the sticks. Work the melted agent into the dent, smoothing it with a metal spatula. Allow the substance to dry.
4 Sand the entire surface of the tabletop to smooth down the repaired dented area until it is flush with the remainder of the surface. Use your sandpaper to simultaneously remove any other imperfections in the table. Brush off the sawdust with a cloth or dry paintbrush.
5 Stain or paint the table however you like. When dry, coat with a polyurethane finish to seal and protect the wood.
Items you will need
Degreasing cleaner

Paint stripper

Shellac sticks

Alcohol lamp

Spatula or putty knife

#120-grit sandpaper

Electric sander

Drop cloth

Clean rags

Protective eyewear

Respirator or dust mask

Rubber work gloves
Tips
Smaller dents can be repaired using wood filler compound. Work the wood filler into the dent with a putty knife, smooth the compound and allow it to dry. Sand the repaired area flush with the surface and paint or stain as desired.

A large dent in a metal table can often be hammered out from the opposite side, but you're likely to see creases or an uneven surface. Consider consulting a furniture repair shop for handling this kind of specialty repair.
Warnings
Use protective eyewear, respirator and work gloves when conducting any type of refinishing project and make sure your workspace is well ventilated against fumes. If working indoors, protect the floor under the table with a drop cloth.

Examine the extent of the dent damage before you begin your repair project. A large gouge that significantly weakens the stability of a table top by nearly splitting it in half may not be structurally sound, even after it's repaired.
Photo Credits
Jupiterimages/Photos.com/Getty Images