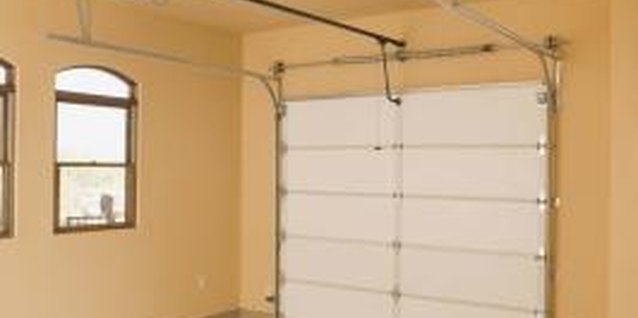 To customize a garage slab, you can cover it with an epoxy product. Epoxy flooring comes in an array of colors and even textures, depending on your preference. Before you can add epoxy, you'll need to repair any peeling, cracked or chipped concrete. This is done by thoroughly cleaning or pressure-washing the slab surface. Next, you will fill in holes and cracks with fillers or resurfacing products. Concrete resurfacing products feature adhesive compounds that allow them to stick to garage floors and provide a smooth surface for epoxy applications.
1 Sweep the concrete slab with a broom to remove dust, dirt and loose chips of concrete. Set a pressure washer to 2,500 to 3,500 pounds per square inch and clean the entire garage floor. This will remove any flaking concrete before you begin repairing or adding epoxy.
2 Fill in larger holes or cracks, with depths of 1/8 inch to 2 inches, using a concrete repair mortar following the manufacturer's recommended mixing and applying methods. Smooth out the concrete repair mortar with a trowel to closely match the rest of the garage slab. Make sure the filler does not stick up higher than the concrete slab. Allow the repair product to dry.
3 Moisten the garage surface with a hose. Remove any standing water from the slab by sweeping it with a broom.
4 Mix the concrete resurfacing product in a 5-gallon bucket following the product labeling. Slowly pour the resurfacing product from the bucket along the outside edge of the garage slab in a10- to 12-inch-wide line.
5 Spread out the resurfacing product by dragging a long-handled squeegee from one end of the garage slab to the other, forming a thin course -- 1/8 inch -- of resurfacing material over the garage slab. Make sure to angle the squeegee head so any excess resurfacing product is pushed to the side, where you will spread out to the next course.
6 Continue spreading the resurfacing product out with the squeegee over the entire concrete slab. Add more resurfacing material to your work area if there is not enough to finish the course you are working on.
7 Allow the resurfacing product to dry for at least 24 hours before applying any epoxy product.
Items you will need
Broom

Pressure washer

Concrete repair kit

Trowel

Resurfacing kit

5-gallon bucket

Electric drill

Mixing attachment

Long-handled squeegee

Safety glasses

Latex or rubber gloves
Tips
Pull the squeegee across the entire length of the concrete slab in one smooth motion for each course. Do not place downward pressure on the squeegee when pulling.

Spray the spread-out resurfacing material with a mist to keep it moist if you need to rework an area with the squeegee.

If a rougher slab is desired before applying epoxy, pull a long-handled concrete broom across the still-moist resurfacing material. You will pull the concrete broom across the entire slab each time you work a course. Work from one side of the garage to the opposite side.

A second layer of resurfacing material is optional. This coating will be very wet and spread in the same manner with a 1/8- to 1/16-inch layer when finished.
Warnings
Wear safety glasses when using a pressure washer due to spraying water and flying debris.

Wear latex or rubber waterproof gloves when working with resurfacing material, as chemicals in these products can dry skin or even cause irritations.
Photo Credits
Jupiterimages/Comstock/Getty Images