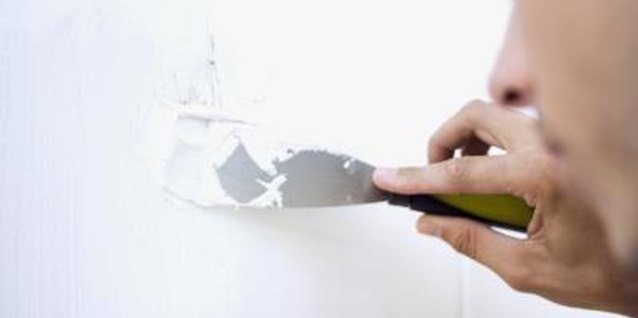 Drywall sheets are secured to wall studs with drywall nails or screws. While screws provide a more secure hold, nails can lose their grip over time, especially if the room is subject to temperature swings, humidity variations or settling. The head of the nail will break the surface of the drywall and raise or chip the paint above it. The nail must be removed, the drywall re-secured and the hole fixed.
1 Chip away the loose paint with the edge of a putty knife.
2 Pull the loose nail out of the wall with a claw hammer.
3 Install a drywall screw either above or below the nail hole with a drywall screw gun. The screw gun's tip is set to drive the screw to the correct depth. The head of the screw should dimple the surface of the drywall, and the screw head should be slightly sub-flush.
4 Apply drywall spackle into the old nail hole and over the head of the new screw. A 6-inch drywall knife can work for most applications. Smaller holes can be filled using a flexible putty knife.
5 Sand the repaired area with a sanding block after the spackle has dried. If the spackle shrank while drying, re-apply another coat until the repair is flush with the surface of the drywall. Re-sand when the second coat has dried.
6 Apply primer to the repaired area with a paint brush or roller. Paint the repaired area with paint color-matched to the surrounding wall.
Items you will need
Putty knife

Claw hammer

Drywall screw

Drywall screw gun

Spackle

Drywall knife

Drywall sanding block

Primer

Paint

Paint brush
Warning
Always remove the loose nail. Do not hammer it back into place, as it will just loosed and back out again.
Photo Credits
Stockbyte/Stockbyte/Getty Images