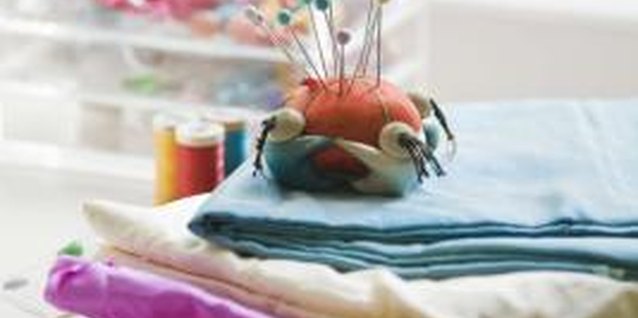 Plain, boring walls set the tone for a plain, boring room. Jazz up the space by decorating the walls with your choice of decor, either homemade or store-bought. Making the decor yourself allows you the opportunity to create pieces more suited to your and your family's tastes than items off the shelf from a home decor store -- create something as fun, funky or quirky as you like using supplies from around the house or a craft store.
1. Wall Clings
Vinyl wall clings or decals stick on the wall, and you can remove them anytime, making them suitable for decorating a rental space. Purchase pre-made clings featuring your favorite sports team logo, or a series of decorative silhouettes such as a tree branch, an owl and a cat. If "store-bought" translates as "humdrum" to you, make your own decals instead, using contact paper. Simply draw out your design on the backing paper, keeping in mind that the design will reverse on the front, and cut out the design with scissors or a craft knife. Create a series of silhouettes of your favorite guitars, for instance, or tiny dinosaur footprints to use as a border near the ceiling or baseboard.
2. Fabric Wall Art
Turn a sheet of shipping foam or insulation board into a piece of art by wrapping its front in fabric. Use a square or rectangle of foam because the shape is easy to wrap as well as hang on the wall. To create the art, set a piece of fabric larger than the foam on the floor, smoothed out. Set the foam on top of it and wrap as if wrapping a gift that will be visible from the front and sides only. Stick pins hold the fabric to the back of the foam, or you can use a foam adhesive for a more permanent effect. Fabric scraps left from other projects work well for this, or splurge and purchase a lush fabric in a pattern you enjoy, creating several large art panels with it. The thicker the foam in the backing board, the more the finished piece will hang like an art canvas. Double-sided poster tape or nails pushed into the back of the foam hold the fabric art on the wall.
3. Tape Mania
Masking tape or painter's tape comes in many more colors than the off-white from previous decades. A bold blue, green, orange or yellow serve as decor on the walls when plotted out in stripes or chevrons, using wide tape for thick lines. The tape acts as a substitute for wallpaper or paint. If you'd prefer a more permanent solution, paint between the lines to create painted stripes or chevrons on the walls. Tape left intact for months or years may require some scraping to remove, so remember this if you're using the tape as decor.
4. Chalkboard Paint
Chalkboard paint turns a plain wall into an interactive playspace. Paint one entire wall with chalkboard paint for a large-scale creative zone, or keep the chalkboard area to a limited area such as half a wall, a rounded rectangle or a "talk bubble" as if part of a comic strip. Using different colors of chalkboard paint allows the paint itself to be part of the decor, such as wide or diagonal stripes.
5. Brown Bag Wallpaper
Plain brown grocery bags, craft or contractor's paper serve as wallpaper for a leathery, warm look for the walls. Apply pieces torn into random shapes individually to the walls with decoupage medium or wallpaper paste. Each piece overlaps the previous slightly, so the entire wall is covered, much like a decoupage craft project. If the pieces of paper are balled up, then flattened first, the finished look has more texture to it, similar to leather. For added color, paint paper with an assortment of mixed colors before tearing the paper, allowing the paintbrush to dip into several colors at a time. The final effect is a rich look, especially if metallic paints or stain is part of the finish.
Photo Credits
Jupiterimages/Polka Dot/Getty Images