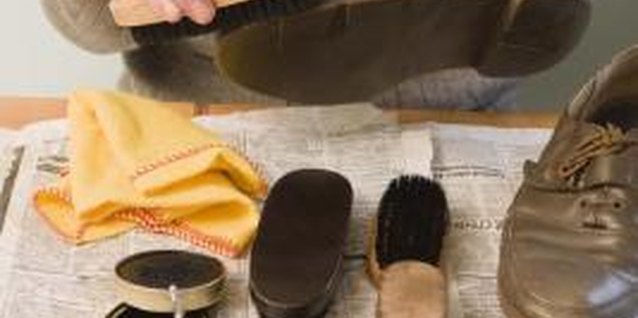 A pair of sleek, Italian men's leather shoes or a pair of black leather, high-heel pumps telegraphs instant style and sophistication. If your favorite pair of shoes has lost their luster, you do not have to rush out to the department store to buy a new replacement pair. Instead of dropping off your shoes to a repair shop for a quick cleaning and polishing, you can restore the beauty of your leather shoes with a professional shine treatment at home.
1 Place three or four newspapers flat on a table. Shoe polish smears easily and may ruin carpet fibers, bedding and your upholstered items permanently. Use the newspapers to protect your home and your furnishings.
2 Wipe down your shoes with a soft cotton cloth. Be sure to remove dirt and dust from the heels and soles as well. Excess dirt on the shoe hinders a high shine.
3 Remove stubborn dirt stains with a mixture of lukewarm water and mild dishwashing liquid. Dip the edge of a damp cotton rag into the soapy solution. Rub the rag vigorously over the shoe to remove the caked dirt. Let the surface of the leather dry before applying polish.
4 Apply a quarter-sized amount of a wax polish to your shoes with a large shoe-polish brush. Unlike a conditioning cream polish, wax polish waterproofs the shoes and adds a high gloss. Smooth polish onto the shoes with a stiff-bristled brush, using a circular motion. Reapply the polish one or twice to cover the entire surface of the shoes.
5 Use an old toothbrush to apply polish to the edges of the shoes and the heels. Fill in nicks on the heel with a cream polish color that matches the heel of the shoe perfectly. If you can't find an exact match, it is best to go with a shade of polish that is lighter, instead of darker, than the leather.
6 Wait 15 minutes until the polish dries. Buff shoes with a horsehair shine brush. This soft-bristled brush removes excess polish and leaves only a thin layer of polish on the outside of the shoe.
7 Wrap an old white cotton sock or white rag around your fingers. Dip your fingers into water. Make an even pass over the shoe to prevent streaks and add an extra layer of shine to the surface of the leather. Let the shoes dry for ten minutes.
8 Buff both sides of the shoe with the horsehair brush or buffing cloth to finish and bring out the shine. If you don't have a horsehair brush or polishing cloth, a pair of pantyhose works just as well.
Items you will need
Newspapers

Cotton cloths, old white rags, old white socks

Mild dishwashing liquid

Shoe polish brush

Wax polish

Cream polish

Old toothbrush

Horsehair shine brush

Buffing cloth

Pantyhose

Mink oil
Tips
Use neutral shoe polish for light-colored shoes.

Rub a dime-sized amount of mink oil on the bottom of your leather soles for conditioning and protection.
Warnings
To keep from mixing the polish colors, use separate shoe polish brushes for black-, brown-, blue- and neutral-colored shoes.

Wax polish can dry out your leather shoes. Use this type of polish sparingly.
Photo Credits
Jupiterimages/Polka Dot/Getty Images