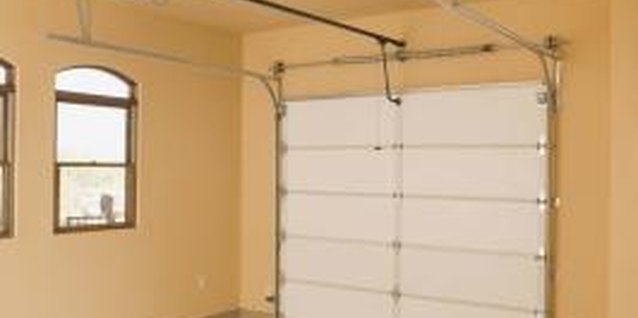 Epoxy paint provides a durable coating for concrete surfaces. Not only will it give you years of use, it improves the appearance of the surface, whether it's in a garage or a basement. Getting the concrete ready for epoxy paint takes effort, however. One of the best ways to prepare concrete to accept epoxy paint is by grinding the surface. It takes a few hours, but it's something just about any homeowner can do in about an afternoon.
1 Rent a large floor grinder and a smaller hand-held grinder from a rental center. The large grinder is for the main floor area. The small grinder is for corners and areas the large grinder won't reach. Be sure to get a silicon carbide or tungsten carbide grinding disk.
2 Walk behind the large grinder, pushing it slowly across the floor out in front of you. After making one pass, move the grinder backward and from side to side to ensure even grinding. Each pass should overlap the adjacent pass by about half. Depending on your surface, you may need to change grinding disks, using a coarser grit at first, then switching to a finer grit. You may need to make several passes across the entire floor.
3 Grind the corners and hard-to-reach areas with the hand grinder.
4 Clean up remaining dust with a tack cloth. The surface must be completely dust free before applying epoxy.
Items you will need
Large grinder

Handheld grinder

Grinding disks

Eye protection

Ear protection

Tack cloth
Tip
Grinders run on electricity, gas and propane fuel. Grinders are available in wet and dry models. Wet models create less dust, but can ultimately be messier due to the water. Many dry grinders come with a device for capturing dust.
Photo Credits
Jupiterimages/Comstock/Getty Images