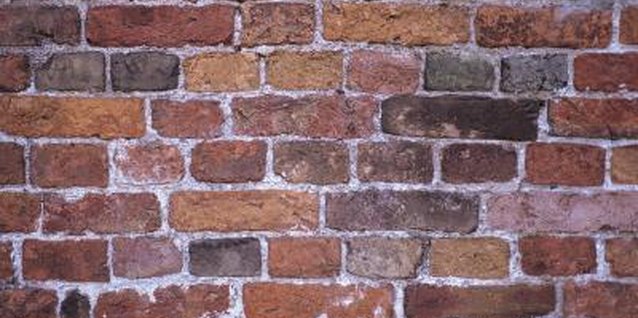 The Fypon brand produces a wide variety of products including medallions, pediments, crown moldings and shutters. Each of the products is designed to liven up areas of a structure that look drab. Fypon products are constructed of resin and isocyanate to form a hard foam product that you can customize with any color of paint prior to installation. Since Fypon products are lightweight, you need only a strong adhesive to secure them into place.
1 Clean the brick surface that the Fypon product will be secured to. Remove any oil, dust and dirt from the rough exterior brick with a mild detergent and water mixture and a bristle brush. Allow the brick surface to dry before adhering the Fypon product. During this time you can dry-fit the Fypon product.
2 Determine the exact location where you'll hang the Fypon piece. Lay out center lines, or place the piece where you'll attach it and trace around it with a pencil to leave visible lines on the exterior brick. These lines will allow you to set the piece quickly after applying the adhesive.
3 Apply a generous amount, such as a ¼-inch to ½-inch bead, of polyurethane construction adhesive to the back of the Fypon piece with a caulk gun.
4 Set the Fypon molding against the exterior brick, lining the outside edges with the traced lines from Step One. Press it firmly against the brick to disperse the adhesive between the Fypon molding and the brick. Hold the piece in place for a few seconds to allow the adhesive to set.
5 Caulk around the Fypon product where any large gaps are visible, such as along the mortar lines.
Items you will need
Mild detergent

Bristle brush

Fypon product

Polyurethane construction adhesive

Caulking
Warning
If you're using a ladder while installing Fypon products, make sure to follow the labeled manufacturer instructions.
Photo Credits
John Foxx/Stockbyte/Getty Images