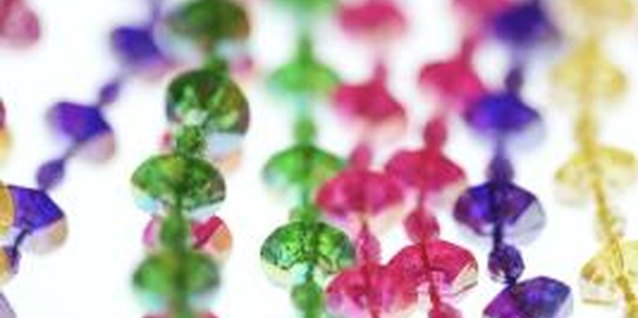 Hanging your little girl's jewelry as art is a smart organizational move for moms coping with small spaces. Get that tangle of brightly colored beads separated and up on the wall as an eclectic piece of art. Adding life and vitality to her room, it will also help to keep her dresser top clutter-free. Happily, especially for renters, there are simple methods of hanging lightweight accessories such as pendants without using wall-damaging hardware. Search the aisles of your local home improvement store for adhesive hooks that go up and come down easily, without bringing the paint and wallpaper along for the ride.
1 Cover an outdoor work surface with newspaper and give your picture frame and the two large adhesive hooks a few coats of matte finish spray paint in a color that coordinates with your room's interior. Allow each coat to dry thoroughly.
2 Distress the frame by sanding it generously. You want areas of wood showing through to give it an aged look. Buff it gently with a soft, dry cloth to remove dust.
3 Use a pencil to mark two small lines on your wall approximately 14 inches apart where you would like your pendants displayed. Use a level or measure down from the ceiling to make them even.
4 Apply the two large adhesive hooks to the wall at the 14-inch marks, using the included instructions to get the best seal. Gently hang the top edge of the frame over the hooks.
5 Decorate the wall space inside your frame with the numerous small adhesive hooks. Practice hanging pendants on them as you position them to get the most efficient placement. Hang one pendant from each hook, or several. Make it look neat or messy, however the mood strikes you. Your daughter will love her new functional art piece, and you'll love the organization it brings to her room.
Items you will need
Newspaper

16-by-20-inch picture frame without glass or backing

Matte spray paint

2 large adhesive hooks, each capable of holding 5 pounds

Sandpaper

Buffing cloth

Level

Measuring tape

Assorted small adhesive hooks
Tip
Your frame should hang flush with the wall at both the top and bottom. If you're using a frame with decorative detail that makes it jut forward at the bottom, use a few small pieces of adhesive tack on the back of the frame at the bottom to adhere it firmly to the wall.
Warning
Never hang this sort of artwork near a crib or where a child could become entangled in looped pendants.
Resources
Photo Credits
Thinkstock/Comstock/Getty Images