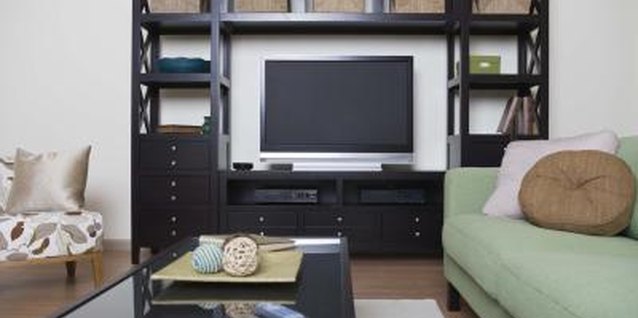 Your entertainment center houses a variety of electronics, and each device comes with its own set of cables. Even if you're determined to keep those cables under control, it doesn't take long before they get tangled into a messy ball. That mass of cables is likely noticeable even if you've stashed it behind the entertainment center. You can't get rid of all the cables, but you can organize and hide them so they blend almost seamlessly into the background.
1 Wrap the loose cables into a bundle and secure them together with rubber bands, cable ties or zip ties. Hide the bundled cables behind or under the entertainment center.
2 Purchase and use a cable-concealment box to hide your loose cables. Many boxes have enough space to fit the entire power strip and all the connected cables inside. Retailers sell these boxes in a variety of shapes, colors and sizes to match almost any home decor.
3 Place a large area rug below the entertainment center; then run the cables below the rug behind the center. Alternatively, if you haven't yet installed carpet, first lay down the cables and install wall-to-wall carpeting over them to create a more permanent solution. Do so only if you plan to keep your electronics in the same place for some time.
4 Place an end table, desk, chair or other piece of furniture in front of the cables to block them from view.
5 Use a flexible cord-management strap to keep cables under control. Attach this flexible strap, usually available in black and brown, to the back of your entertainment center. Slide the loose cables into the strap's holding compartment.
6 Replace your entertainment center's fiberboard backing with a sheet of pegboard. Hang a tool organizer on the pegboard back and use it to stash your cables and keep them off the floor. Alternatively, attach a basket to add storage for extra remote controls, game controllers and other small items.
Items you will need
Rubber bands, cable ties or zip ties

Area rug

Cord-management strap

Pegboard sheet

Tool organizer

Basket
Tip
To eliminate cords completely, upgrade to wireless TV speakers and an HD transmitter. Some devices can transmit wireless audio to any model of speakers, and an HD transmitter allows you to cut the cables between high-definition electronic equipment.
Warning
Use caution when working with electronic devices. Ensure that your devices are turned off and unplugged before attempting to organize or hide their cables.
Resources
Photo Credits
Jupiterimages/Comstock/Getty Images