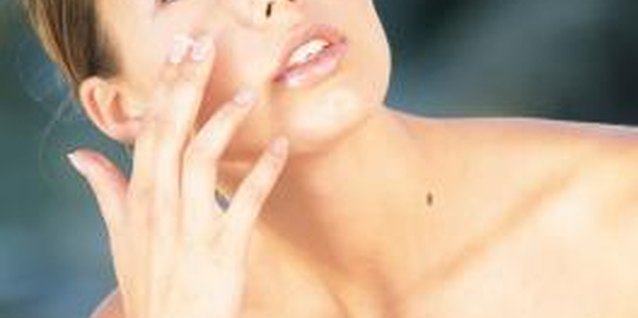 In an ideal world, makeup either isn't necessary or onlys require a few minutes of application to achieve perfection. However, when your skin isn't prepped and products aren't applied properly makeup can collect in lines and wrinkles, emphasizing these trouble spots rather than concealing them. Create a flawless, finished appearance by washing your face properly and choosing the correct products for your mature skin.
1 Wash your face with a cleanser formulated for your skin type. Pat your face dry with a soft towel before applying a thin layer of moisturizing facial lotion.
2 Apply a silicone-based primer to your face. Available in gel or cream form, the primer provides a smooth surface for your foundation. Allow the primer to set for at least one to two minutes before continuing.
3 Apply a lightweight liquid foundation to your face with your fingers. Dab the product on your chin, both cheeks, your nose and forehead. Work the product upward and outward toward your hairline with your fingers. Follow the "less is more" philosophy, and only use the foundation to even out your skin tone and conceal blemishes, rather than caking it on to camouflage fine lines and wrinkles. Allow the foundation to set for one to two minutes.
4 Swipe a translucent powder onto a large makeup brush, and tap it against the compact to remove any excess. Apply to your entire face. If you suffer from combination skin that is both oily and dry, only apply the powder to areas prone to shine such as your forehead or the bridge of your nose. Oily skin is generally located around the T-zone -- chin, nose, forehead and cheeks.
Items you will need
Facial cleanser

Soft towel

Moisturizing facial lotion

Silicone-based primer

Liquid foundation

Translucent powder

Large makeup brush
Tips
Help prevent the formation of new lines and wrinkles by applying a moisturizer featuring an SPF of at least 15.

No matter what your skin type, a moisturizing lotion helps create a base for your makeup, and prevents the foundation or powder from collecting in fine lines or wrinkles.

A silicone-based primer provides even coverage and helps fill in pores, lines and wrinkles so makeup won't settle inside them.
Photo Credits
Goodshoot/Goodshoot/Getty Images