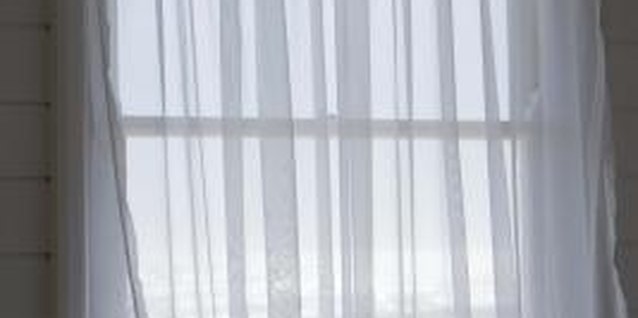 Sheer window scarves give your home a light, breezy look, whether you live on the beach or in the city. Drape sheer scarves across the top of a curtain rod, allowing fabric to hang down on both sides, or hang them over the rails of a canopy bed to create a romantic bedroom. When you remove sheer scarves from the package, which are usually made of nylon or other synthetic fibers, they often have creases you will need to iron out.
1 Wash your sheer window scarf in the washing machine if it is very wrinkled or dirty. Use cold water and set the machine for the gentle cycle. Dry the scarf in the dryer on low heat. Remove it from the machine as soon as it is dry.
2 Set up your ironing board close to wherever you plan to hang the scarf. Lay the top of the scarf across the ironing board and set your iron for low heat.
3 Iron the top of the scarf, keeping the iron moving constantly until wrinkles are gone.
4 Continue ironing the scarf in sections, from the top down, until you have ironed the top 4 feet.
5 Hang the scarf from the window or canopy and continue ironing from where you left off, working down to the bottom hem in sections.
Items you will need
Ironing board

Iron

Curtain rod
Warning
Do not wash or iron window sheers if you do not know the fabric content and there is no care label. Take the scarf to a dry cleaner, who can iron it for you after cleaning.
Photo Credits
Jupiterimages/Polka Dot/Getty Images