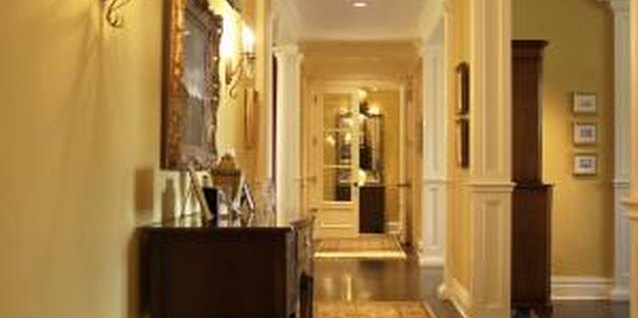 A hallway carpet, also known as a carpet runner, is a long, narrow piece of carpet that usually leaves at least a few inches of the hallway floor exposed on all sides. Even simply walking over a runner results in it bunching up or sliding from time to time, making the hallway look unkempt and creating a safety hazard. A nonskid backing for a runner keeps it from sliding around and allows you to reposition the carpet at any time.
1 Pull the edges of the rug to remove wrinkles and to measure its actual size. Measure the length and width with a tape measure.
2 Select a roll of nonslip rug pad suitable for your floor type and close to or larger than your carpet size. Some nonslip pads are designed for hardwood floors, while others are designed for rugs or runners that sit atop carpeting. Some pads are reversible and hence able to properly grip carpeting and protect the flooring beneath, regardless of floor type.
3 Unroll the rug pad and mark it an inch or two narrower and shorter than your hallway carpet runner using a tape measure and permanent marker. Use a straightedge to help make straight lines long enough to use as a cutting guideline.
4 Slide a large piece of cardboard or a flattened box underneath the portion of the pad you'll cut first. Slice through the pad material with a sharp utility knife, using care not to cut completely through the cardboard. Continue moving the cardboard as needed, cutting the entire pad to size.
5 Set the runner on the floor where the rug normally rests, pushing the rug aside, if necessary. Set the carpet atop the pad so the pad isn't visible along any edges of the runner.
Items you will need
Tape measure

Nonskid carpet backing for your floor type

Marker

Straightedge

Wide sheet of corrugated cardboard or a flattened box

Utility knife
Tips
Carpet tape, a double-sided tape designed to hold carpeting and rugs securely in place, is an alternative. The downside to carpet tape is that you won't be able to take the runner outside to shake it out or clean it without removing the tape. The tape may also leave a gummy residue on the floor or the back of the carpet.

If your carpet slips away from the pad, secure the runner to the pad with pieces of double-sided carpet tape.

Carpet pad types and materials vary greatly. Choose one that best fits your needs, making sure the pad is a nonslip pad and not just a standard carpet pad. Standard carpet pads may slip.
Resources
Photo Credits
Ryan McVay/Photodisc/Getty Images