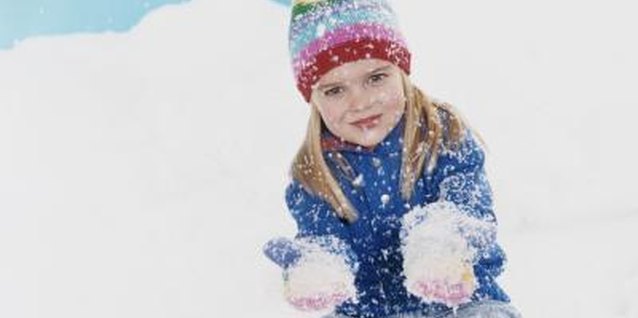 The snowflakes are falling, the wind is whipping and the whole neighborhood is bustling with outdoor activities. Anxious to make her first snowman of the year, your preschooler squirms as you bundle her up in some cozy winter outwear. Excitement soon turns to dismay when you both realize that her mittens are nowhere in sight. In fact, it's the second pair to go missing this week. As you reach for the last pair of backups, consider how to keep your little kitten from losing her mittens.
1 Secure mittens to your child's jacket with mitten clips. This is the same way same way that suspenders attach to pants and mitten clips attach to gloves. One clip attaches to the bottom of the mitten and the other clip attaches to the bottom of your child's jacket sleeve. In between both clips, there is a piece of elastic that adjusts for comfort.
2 Attach gloves or mittens to a piece of yarn. Cut a piece of heavy duty yarn long enough to shimmy up one sleeve, across the inside back of the jacket and down the other sleeve, leaving about six inches of excess to hang outside each jacket sleeve. Secure one mitten to each end of the yarn by threading the yarn through the clips that hang from the cuff. Even when the jacket is taken off, the mittens remain visible, dangling from the sleeves.
3 Stick the mittens to your child's coat with sticky-back hook and loop tape. Hook and loop tape comes in industrial strength, which is durable and waterproof. Simply cut a piece long enough to wrap around the inner cuff of each mitten. Peel the backing from the tape and press it to the fabric of the mittens – all the way around each cuff. Cut two more pieces to wrap around the outer cuff of each sleeve. Use your fingers to press the tape from the mittens against the tape on each inner sleeve cuff. Voila! Those mittens aren't going anywhere.
Items you will need
Mitten clips

Heavy-duty yarn

Scissors

Sticky-back hook and loop tape
Tips
If your child's gloves or mittens do not have clips attached to the cuffs, you can still use the yarn method. Simply poke a small hole into the fabric of the glove using the tips of a pair of scissors, and then thread the yarn through the hole. If the mittens are made of wool – all the better. Simply poke the yarn through the weave and tie it off.

If you happen to have any mattress clips on hand, they work great as mitten clips, too.
Photo Credits
Digital Vision./Digital Vision/Getty Images