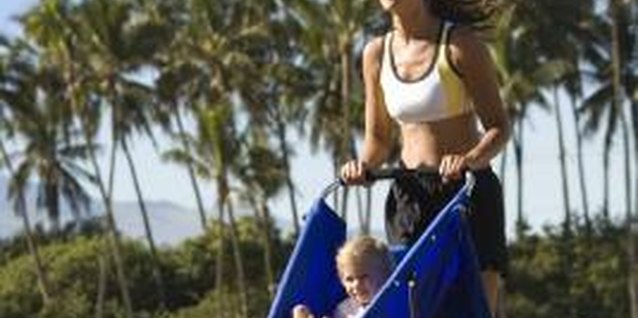 Some days, it feels like chasing a toddler around is more than enough of a workout -- and by the time you have a free moment all you want to do is lie down with a good book -- for a minute. But on days when you feel really ambitious and want to go for a jog (just like in your pre-baby days -- remember those?) you may need to get creative. Jogging with a toddler in tow is completely doable, particularly, if you're not worried about looking or acting a little silly while you're getting your rockin' body back!
1 Strap your tot into a jogging stroller and head out, if she's too big for a carrier or you just don't want to do that. Make sure to strap him in securely so he doesn't get jostled too much if you build up a good speed -- or are running over rocky or uneven terrain.
2 Sing songs while you jog to keep your toddler entertained. Repetitive songs that your child can pick up on and sing along with are the best. You can also use this time to play simple games, like "I Spy." For example, "spying" different animals, flowers, trees or other joggers.
3 Tell stories. You can either focus on nursery rhymes or well-known stories that you know backwards and forwards and can recite even when sweating and trying not to tip over your stroller, such as the "Three Little Bears" or "Goldilocks." Another option is to tell simple stories about your family or things that happened when your child was a baby. Or, just make up stories about whatever is going on during your jog. For instance, "Mommy and Joe were running, and Joe saw a BIG tree and then..."
4 Attach toys to the handlebars or sides of the jogging stroller. Look for these in the baby toy section of department stores or big box stores, or likely, in your own toy box at home. There usually have cloth rings that close with a loop and hook fabric fastener and a short fabric strap so the toy can be attached to car seats or strollers. These are usually small, stuffed animals or plastic toys that make sounds when they're shaken or have some other visual or auditory stimulation. A few of these can keep kids entertained for a while -- particularly, if you switch them, and alternate which ones go in the stroller on which day.
Tip
Consider alternating several routes, if you jog with your toddler frequently. This will keep him from becoming bored with the same scenery every day. It will also help you become less bored with your exercise routine, as well.
Warning
If you do use a carrier to jog with your toddler, check the weight limits to ensure that it is strong enough to withhold the bouncing weight of your child. It is best to jog on routes that are not too hilly or that have uneven terrain, to prevent the possibility of tripping or losing your balance.
Photo Credits
Jupiterimages/Comstock/Getty Images