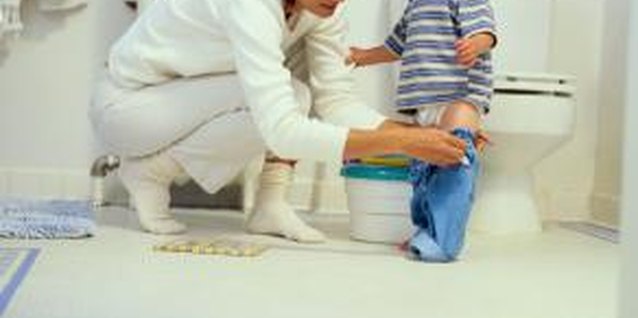 When your little explorer ventures into the bathroom, he'll find all sorts of mischief and dangers awaiting him. Toddler toilet flushing can be a nuisance, no doubt. It can also get downright expensive if he decides to flush a stuffed animal or toy car. Nix the toilet adventures with preventative measures that keep him from flushing. With a little maturity, he'll be ready to tackle toilet flushing appropriately.
1 During the toddler stage, flush the toilet for him instead of teaching him to flush, advises Auberle.org, a site dedicated to making children's lives better through a variety of resources and programs. Once a little one gets the hang of flushing and sees this fascinating process, he may think he's found a new toy.
2 Install a toilet-seat latch on your toilet to lock the toilet seat. While these nifty gizmos won't keep your toddler from flushing, if he doesn't have access to the toilet bowl, he may not feel the need to flush.
3 Situate a door latch on the outside of the bathroom door in a spot where adults and older kids can reach but one that is out of reach for your toddler. Install the door latch on the door and the door jamb using the hardware included with the latch.
4 Keep the bathroom door latched when no one's in the bathroom to keep your toddler out. Bathrooms can be a dangerous place for toddlers, so they shouldn't have access to the bathroom without supervision. Instruct everyone in the family to keep the bathroom door locked from the outside unless the bathroom is in use.
Items you will need
Toilet seat latch

Door latch
Tip
Some kids might be terrified of flushing — the opposite end of the spectrum. Solve the whole flushing predicament by avoiding it altogether. Flush after your toddler leaves the toilet area.
Photo Credits
Ryan McVay/Photodisc/Getty Images