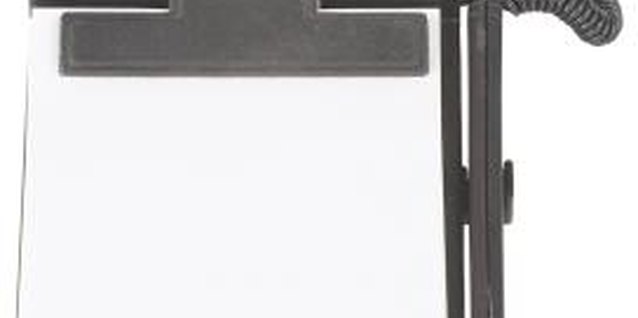 Every parent waits to hear their child's first words. From "mama" and "dada" it will eventually move to, "Mom, can you drive me to the mall?" Once your child says his first word at 12 to 15 months, you might want to keep track of how many words are in his vocabulary. This gives you a record of your child's speech development that can be useful if you have concerns later on or if your pediatrician wants to know how many words he uses.
1. Paper and Pen
1 Title a blank sheet of paper with your child's name and the word "vocabulary."
2. Paper and Pen
2 Post the sheet of paper on your refrigerator or another area of your home that you visit frequently.
3. Paper and Pen
3 Write down each word that you hear your child say, and the date you first heard him use it.
4. Paper and Pen
4 Write down new words during a quiet moment of the day or when you stop and reflect at the end of the day.
5. Paper and Pen
5 Bring the list along when you and your child visit the pediatrician.
6. Computer or Smartphone
1 Open a blank document on your computer or a note function on your smartphone.
7. Computer or Smartphone
2 Title the document with your child's name and "vocabulary," Put a shortcut on your desktop or home page.
8. Computer or Smartphone
3 Record new words and the date that your child first says them. You can record them throughout the day on your phone or during quieter moments when you are at the computer.
9. Computer or Smartphone
4 Print your list to take to the pediatrician if you are concerned about your child's speech.