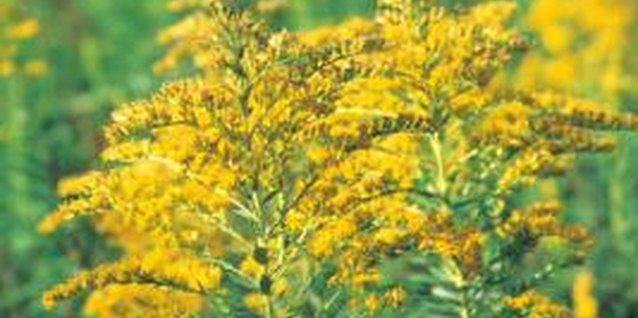 Goldenrod (Solidago) is a genus of about 100 species of yellow flowering plants. They commonly grow in meadows, pastures and along roads, and may become a pest to some gardeners because of their ability to spread. One common species is "Fireworks" (Solidago rugosa), which can reach up to 5 feet tall and 2 to 3 feet wide. It grows in U.S. Department of Agriculture plant hardiness zones 5 through 9. Most species of goldenrod bloom in late summer or early fall, and they prefer moist, well-drained soil. Complete removal and regrowth prevention can take up to two years with a combination of smothering and chemical herbicide application.
1 Cut the goldenrod down to the ground level with pruning shears. Remove and discard the cuttings.
2 Cover the soil where the goldenrod was cut with thick, heavy and flat pieces of cardboard. The cardboard should be about four sheets thick.
3 Cover the cardboard with 3 or 4 inches of mulch, straw, compost or hay. Leave this in place for one year. Check the cardboard regularly for signs of deterioration. If it breaks down, remove the mulch or compost and apply another layer of cardboard, followed by a thick layer of mulch or compost.
4 Remove the compost or mulch and cardboard. Spray the soil with glyphosate-based herbicide every six to eight weeks throughout the growing season to prevent growth of any seeds. Wear gloves, long sleeves and a particle mask while applying the herbicide.
Items you will need
Pruning shears

Cardboard

Mulch, straw, compost or hay

Glyphosate-based herbicide

Rubber gloves

Particle mask
Warning
Keep children and pets out of the area when applying herbicides.
Photo Credits
Comstock/Comstock/Getty Images