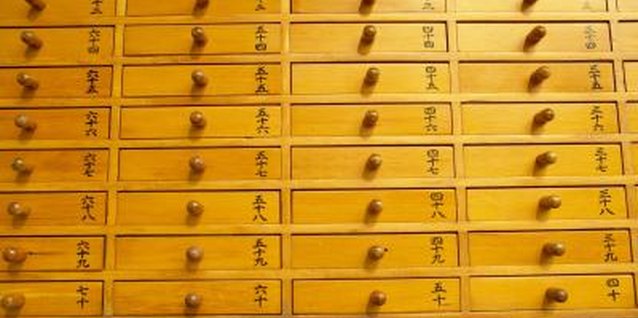 Drawers are one way to keep items "out of sight, out of mind." But if you can't see the contents of your drawers, it's easy to forget what's in each, especially when you have lots of drawers, or if you don't access them frequently. Modern label makers offer a variety of fonts and print directly on a clear material, which makes the label nearly invisible for better blending into the surroundings. If stick-on labels aren't your style, chalkboard paint or small signs may provide a custom option.
1. Label Maker
1 Insert clear label tape into the label maker, as directed by the manufacturer's instructions, which may vary by model or brand.
2. Label Maker
2 Write on paper the words you'd like to use on each drawer for quick reference, such as "jewelry supplies" or "adhesives."
3. Label Maker
3 Punch the words into the label maker using the font and color you prefer for the drawers. Print a test word if unsure which font looks best against the drawers. Print out the words following directions on the label maker.
4. Label Maker
4 Peel the sticky backing off each label, smoothing down the word with your fingers onto an appropriate place on the drawer.
5. DIY Chalkboard Labels
1 Cover a work surface outdoors or in a well-ventilated area with newspaper. Set the stick-on label sheets atop the paper, using as many sheets as needed to make one label per drawer.
6. DIY Chalkboard Labels
2 Shake the chalkboard paint can vigorously for a minute or as directed by the manufacturer's instructions. Spray the label sheets using a slow, steady arm motion for a consistent paint finish. Apply a second coat if you don't cover the labels completely. Allow paint to dry completely.
7. DIY Chalkboard Labels
3 Apply one label to each drawer face in a desired location. Label the drawers by writing words on the chalkboard labels with chalk, such as "beads" or "fabric scraps." Use colored chalk for added variety.
8. Label Tags
1 Punch a hole near one corner of each blank business card using a hole punch. Use one business card per drawer.
9. Label Tags
2 Write the contents of one drawer on each business card using cursive or calligraphy-style handwriting. A metallic gel pen or angled-tip marker creates attractive lettering.
10. Label Tags
3 Cut ribbon into 4- or 5-inch strips, one per card tag. Wrap one ribbon through the hole in a card, then through the drawer pull or over the drawer knob. Tie the ribbon in a bow.
Items you will need
Label maker with clear label tape

Paper

Pen

Newspaper

Stick-on label sheets

Chalkboard spray paint

Colored chalk

Blank business cards

Hole punch

Metallic gel pen or angled-tip marker

Ribbon

Scissors
Tips
Weigh down the corners of the label sheets with pebbles if they start to curl when painting.

Practice writing words with an angled-tip pen on scrap paper to get an ideal look before attempting it on the label cards. An angled tip creates a look similar to calligraphy.
Warning
Spray paint only in a well-ventilated area, wearing a dust mask for added protection. Avoid breathing in the fumes.
Photo Credits
Jupiterimages/Photos.com/Getty Images