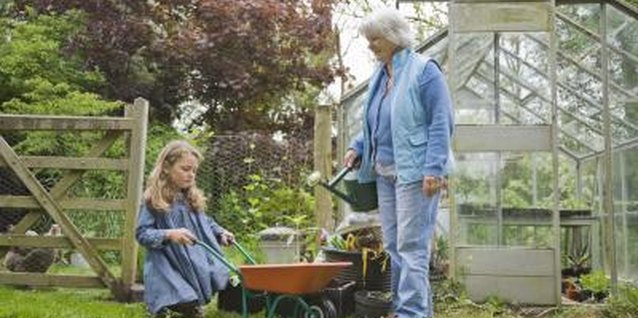 Adding a greenhouse to your yard can extend your gardening season by months and even to year-round. Getting the best out of this structure means making landscaping decisions that let you spend more time enjoying your greenhouse than taking care of it. Use a combination of hardscape materials and container plants to keep weeds away from the greenhouse and add beauty to the setting.
1. Landscaping with Pavers
1 Cut mulch cloth into strips 18 inches wide and long enough that you can place them around the exterior of the base of the greenhouse.
2. Landscaping with Pavers
2 Make a path of fabric strips around the greenhouse so that they are flush with the greenhouse's exterior. Anchor fabric in place.
3. Landscaping with Pavers
3 Lay pavers edge-to-edge, butted up against the foundation. This apron will provide a narrow outdoor working surface and the fabric/paver combination will keep weeds from growing against the house. Building an apron also protects the house from mower damage.
4. Landscaping with Gravel
1 Dig a 4-inch-deep path as wide as you wish around the greenhouse. Level the path with the rake. Gravel is a good choice for enhancing drainage around your house.
5. Landscaping with Gravel
2 Install metal or plastic lawn edging, using the shovel to break through the ground. Tap with the mallet to seat the edging. The edging will help contain the gravel, keeping things neat. If you have lawn, this will also prevent issues with run-ins between the lawn mower and gravel.
6. Landscaping with Gravel
3 Line the path with plastic mulch cloth and anchor it down.
7. Landscaping with Gravel
4 Fill the path with gravel and level it with the bar rake.
8. Creating an Outdoor Plant Area
1 Set large concrete blocks on edge and place the board on them to create an outdoor work or display shelf.
9. Creating an Outdoor Plant Area
2 Line the shelf with potted seasonal flowers, vegetables or herbs from the greenhouse. This strategy is especially useful for young plants that may need to adjust to outdoor conditions before moving into other garden areas.
10. Creating an Outdoor Plant Area
3 Rotate container plants to other parts of the garden, changing the greenhouse display as new plants come into bloom or become ready to move outdoors.
11. Planting Near the Greenhouse
1 Select low deciduous shrubs for permanent plantings. Tall deciduous shrubs or evergreens that reach a mature height of over 3 feet will block necessary light.
12. Planting Near the Greenhouse
2 Plant shrubs on the outer edge of the hardscaped apron you have built around the greenhouse. When placing shrubs, leave plenty of space near the door for carting in and out equipment.
13. Planting Near the Greenhouse
3 Plant a small-leaf deciduous shade tree near the greenhouse if it has a southern or western exposure. Filtered shade will help you control greenhouse temperatures during the warmest part of the summer without interrupting spring or fall sunshine.
Items you will need
Black fabric mulch cloth

Scissors

Plastic or metal fabric anchors

Pea gravel or 18 by 18-inch pavers to surround greenhouse

6-inch metal or plastic lawn edging

Large mallet or small sledge

Shovel

Bar rake

Four 24 by 24-inch concrete pavers

Two pieces of lumber each 4 to 6 feet in length, 2 inches thick and 8 to 12 inches wide.

Plant pots with saucers or two 3-foot resin windowbox planters

Potting soil

Deciduous shrubs

Tree
Tips
Use the same paving materials to create a path wide enough for a wheelbarrow, to simplify transporting soil, mulch and other supplies.

Make a broader apron to accommodate outdoor chairs if you plan to use your greenhouse area for entertaining as well as gardening.
Photo Credits
Jupiterimages/BananaStock/Getty Images