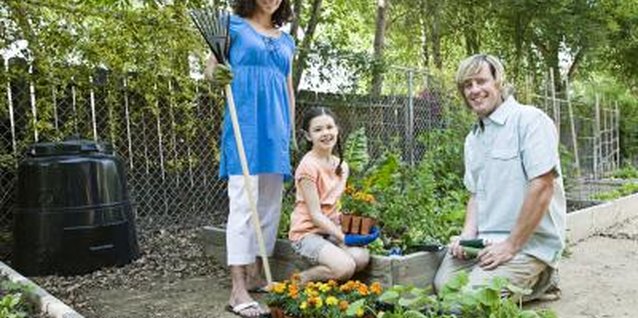 From a look around your local garden shop, you might never know that marigolds (Tagetes) come in varieties ranging from 6 inches to 6 feet tall. Notoriously easy to grow from seed, marigolds sprout within a few days of planting and bloom nonstop as annuals from early summer through the first frost. You can grow them as perennials in U.S. Department of Agriculture plant hardiness zones 9 through 11. All marigolds grow quickly in all types of soil and thrive in full sun with at least weekly watering or more in extremely hot weather or if planted in containers.
1 Fill a small container with French marigolds (Tagetes patula) to set on a patio table for a brilliant pop of yellow, red, orange or maroon-brown in solid colors or in striped or edged variations. French marigolds include varieties from 6 inches to 1 1/2 feet tall in single and double blooms.
2 Plant a large container with a mixture of plants. Good choices for marigold companions in USDA zones 5 through 10 include garden sage (Salvia officinalis) with gray-green fuzzy leaves and flossflower (Ageratum houstonianum) with pink, purple or blue blossoms. Both plants have mounding growth habits that contrast well with upright marigolds.
3 Place short, French marigolds at the front of a garden bed for a burst of color or plant them as edging along the bed. Look for dwarf varieties such as "Janie," which grows 8 inches tall with 2-inch flowers.
4 Plant groups or clumps of 3- to 4-foot tall African marigolds (Tagetes erecta) in the middle of a garden bed. Surround the plants with other plants that have a mounding habit to help the marigolds remain upright, such as English lavender (Lavandula angustifolia) for USDA zones 5 through 9.
5 Intersperse marigolds here and there in your vegetable garden to discourage pests, including Mexican bean beetles and nematodes. Signet marigold (Tagetes tennuifolia) attracts beneficial insects such as ladybugs and lacewings.
6 Add copper canyon daisy (Tagetes lemmonii) to the center of an herb garden in USDA zones 8 through 10. Copper canyon daisy grows from 3 to 6 feet tall in a bushy shape and provides golden-orange flowers and pungent leaves that you can use in Mexican cuisine.
Items you will need
Small and large containers

Mounding companion plants
Tips
Plant tall marigold varieties more deeply than they come from the nursery. Strip off leaves from the lower 3 inches of the stem and place that portion in the planting hole. This deep-planting method helps the plants stand more firmly.

Collect seeds from the marigold plants to replant in your landscape or to share with children in your neighborhood.
Warning
Avoid watering tall marigold varieties with overhead sprinklers, because the stems may break or sag.
References
The New Sunset Western Garden Book; Kathleen Norris Brenzel, Editor
Photo Credits
Jupiterimages/Brand X Pictures/Getty Images