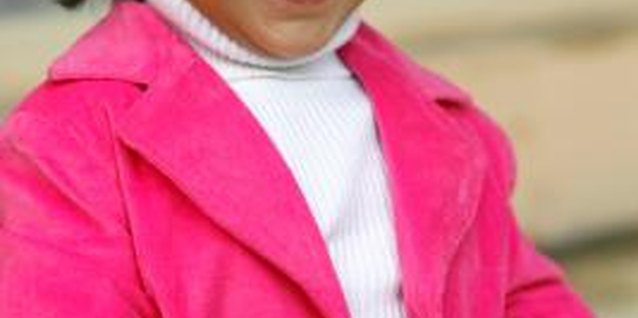 Whether you're fitting hand-me-downs to keep up with growing kids or updating your own winter wardrobe, there's no need to sacrifice winter style if dress coat sleeves are too short. Simply lengthen the coat sleeves. The sleeve lining is sewn at the wrist to the outer coat sleeve, and you'll need to unstitch that seam, fold a smaller hem on each wrist edge, then join the lining to the coat sleeve with a new seam along the wrist edge. Some quick hand-stitching secures the layers, and everything's hidden inside the sleeve.
1. Use a Sewing Machine
1 Separate the lining from the coat sleeve at the wrist edge by gently pulling the layers apart to expose the seam. Slide the tip of a seam ripper between the stitches and cut the threads of one stitch. Pick out the stitches one at a time around the wrist edge of the sleeve until the sleeve lining is separated from the coat sleeve.
2. Use a Sewing Machine
2 Iron the coat sleeve edge and the lining edge to flatten the fold line of the previous hem. A narrow, sleeve ironing board is helpful, but not required. If you don't have a sleeve board, carefully press the edges with the tip of the iron on a regular ironing board, rotating the sleeve to press all the way around.
3. Use a Sewing Machine
3 Measure and fold under the coat sleeve to the new length, and pin. Measure and fold under the sleeve lining and pin, matching underarm seams. Fold both layers so the raw edges are sandwiched between the layers. The lining should be 1 to 2 inches shorter than the coat sleeve, but the fold of the lining must cover the raw edge of the coat sleeve hem.
4. Use a Sewing Machine
4 Thread a needle and hand sew the lining fold to the hem of the coat sleeve. Press the fold of the new sleeve hem.
Items you will need
Seam ripper

Scissors

Steam iron

Ironing board

Sleeve ironing board (optional)

Sewing pins

Sewing ruler

Sewing machine

Thread

Hand sewing needle
Tips
Hang the coat on a hanger to check that the lining and coat sleeve are aligned properly and not twisted or bunched. Adjust the pins as necessary to get a smooth, even hem on each sleeve.

Be sure that both sleeves are the same length.
Warnings
Coat sleeves with cuffs or ribbed or elastic wristbands cannot be lengthened.

Nylon and many synthetic fabrics may not tolerate ironing. Test the iron temperature in an inconspicuous spot with the tip of an iron on a low setting.
References
Easy Guide to Sewing Linings: Connie Long
Singer Sewing Book: Mary Brooks Picken
Photo Credits
Visage/Stockbyte/Getty Images