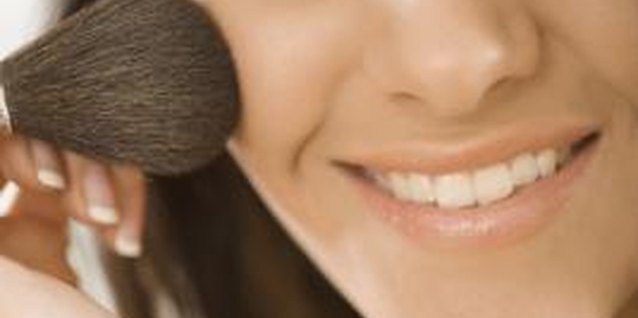 While foundation creates a lovely smooth base for the rest of your makeup, the last thing you want is to look like you caked it on. If you prefer a natural look but still want to perfect a few problem areas, learn to apply foundation in a way that will leave you looking like you're not wearing any makeup at all.
1 To ensure a smooth, flawless finish, start by washing and moisturizing your face. If you have any dry, flaky patches, exfoliate between washing and moisturizing. After moisturizing, wait about five minutes to let your skin absorb the hydration before applying makeup.
2 Apply a primer or mattifying base. This will give your skin a smooth surface, fill in wrinkles so your foundation won't crease and provide a base to keep your foundation on all day.
3 Apply the powder foundation. Dip a fluffy brush into the powder, tap to remove excess and apply it to your face in small circular motions.
4 Get more coverage from a liquid foundation if you have more visible skin flaws. To achieve a natural look, apply it with a two-tiered bristle brush. The outer tier of the brush will help control the amount of foundation that goes onto your face, ensuring that you don't overdo it.
5 Blend the foundation with a sponge, if needed, to avoid a visible line between your foundation and your actual skin.
6 Use a concealer to cover any problem areas after applying foundation. Dab a small amount to dark spots and continue to "tap, tap, tap" until your concealer is blended. Start with a little concealer and apply more as needed. The idea is to use a little makeup as possible.
Items you will need
Face wash

Exfoliant , optional

Moisturizer

Primer

Powder foundation

Liquid foundation, optional

Makeup sponge, optional

Makeup brush
Tip
If you have only a few problem areas, skip the foundation all together. A primer helps to smooth your complexion in a natural way. If you have any small dark marks, apply a bit of concealer to those spots and you're all set.
Photo Credits
Jupiterimages/Brand X Pictures/Getty Images