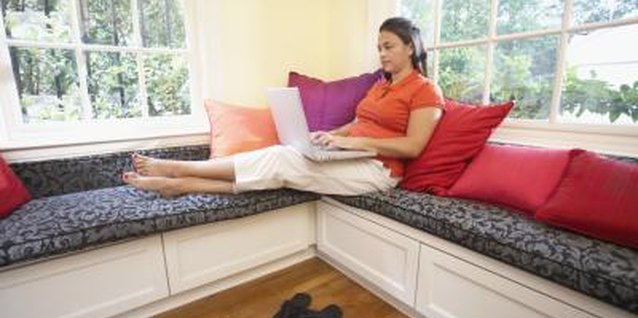 Adding or changing out the cushions on a breakfast nook set can change the whole look of the piece, which can also help to make over the look of your kitchen. However, you don't have to spend a couple of hours designing and sewing a new cushion set -- in fact, you don't even have to know how to sew at all -- in order to get the new look. All you need are the right materials and a few simple tools to create gorgeous new cushions for your set.
1 Trace the pattern of your seats on a piece of wax paper or butcher block paper. If your seats are perfect rectangles, you can just take the measurements. However, if the seat curves or is angled, you will need to make a pattern.
2 Trace the pattern onto a piece of high-density foam in your desired thickness. A thicker piece of foam will create a more comfortable seat.
3 Cut the high-density foam using an electric knife.
4 Trace the pattern onto a piece of plywood or particle board, and cut it using a circular saw.
5 Glue the foam to the plywood or particle board using spray adhesive.
6 Cut your fabric to the pattern size plus an additional 3 or 4 inches on each side -- matching the depth of the foam -- and an additional 1 inch on each side for a seam allowance.
7 Cut a piece of polyester batting the same size as the fabric.
8 Lay the fabric right side down on a large flat surface, such as a table or the floor, then place the batting on top. Center the foam and the plywood or particle board on the fabric and batting. Pull the fabric and batting tight around each edge and staple them along the underside of each edge of the board, starting with the middle and working toward the corners. You can tuck in the fabric and batting at the corners the way you would when wrapping a gift to make neater corners.
9 Trim the fabric and batting and place the cushion on top of the breakfast nook bench.
Items you will need
Wax paper or butcher block paper

3- or 4-inch high-density foam

Polyester batting

Spray adhesive

Upholstery fabric

Measuring tape

Scissors

Electric knife

Staple gun

Plywood or particle board

Circular saw
Tips
Using an electric knife to cut your high-density foam will result in clean, even lines.

If you don't have a circular saw or don't want to buy one, you can get your plywood or particle board cut at a home improvement store.
Photo Credits
Jack Hollingsworth/Photodisc/Getty Images