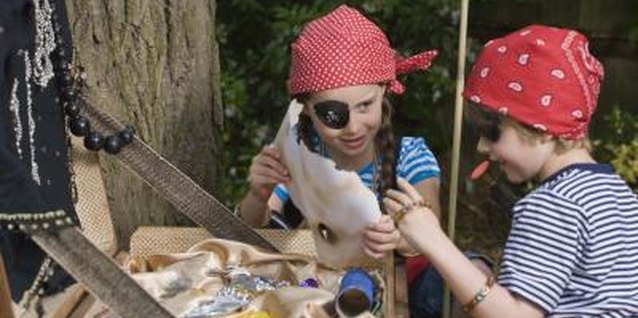 Raid the recycling bin and show off what an upcycling-savvy mother you are while providing your little pirate with endless hours of entertainment. Upcycling is the process of converting useless items into new materials, and with your upcycling skills, your youngster can sail the mighty seas with a cardboard ship created by you. You can enlist your preschooler's help in the ship-building project so he can help build and decorate it, or you can surprise him with the cardboard vessel when he awakes from his afternoon nap.
1 Lay a large cardboard box down on one of its largest sides. You want it to be as roomy as possible to give your youngster plenty of play space. Cut off the top of the box, because this ship doesn't need a roof.
2 Cut the extra cardboard in half. Now fold each piece in half to make triangle shapes. Hold one triangle shape at either end of the ship and use duct tape to secure the new bow and stern. (If nautical know-how isn't your thing — that's the front and back of the boat.)
3 Draw three circles on the starboard side of the ship — the right side — and then cut them out to make portholes. Draw a large rectangle on the port side — the left side — and cut it out so your kiddo can get onto his ship. At this point, you already have the basics of the ship complete.
4 Cut another piece of cardboard from a large sheet. Cut out a triangle shape for a flag and duct tape the flag to an empty wrapping paper roll. Have your kiddo help decorate the flag with markers, crayons or embellishments.
5 Attach the flag to the ship with duct tape. You can give the ship a paint job to cover the duct tape or you can or enlist your toddler's help to decorate it.
6 Cut one last piece of cardboard into a rectangle about 12 by 4 inches in size. Give your kiddo's ship a name and write it across the cardboard sign. Glue the sign to the bow of the ship and that's it — a brand-new ship made out of not brand-new materials that will keep your youngster sailing the mighty seas for weeks to come!
Items you will need
Large cardboard box (at least 24 by 36 inches for a small ship)

Duct tape

Sheet of cardboard

Empty wrapping paper roll

Paint, markers or crayons
References
Unplugged Play: No Batteries. No Plugs. Pure Fun.; Bobbi Conner
Playhouses You Can Build: Indoor and Backyard Designs; David Stiles, et al.
Photo Credits
Jupiterimages/BananaStock/Getty Images