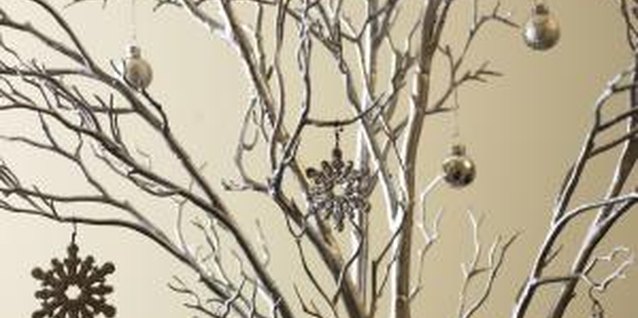 If you're tired of boring traditional table décor, use a decoupage medium and glitter to create sparkly masterpieces for your home or next event. All that glitters can be gold, or silver or blue. Bring nature indoors by using real tree branches and give them a shiny makeover. Place them in a painted pot or a vintage glass vase filled with pebbles or beads. Your shimmery stems won't blend into the background like other centerpieces, and they make great conversation starters for guests.
1 Gather three to six tree branches from outside, no longer than three feet in length. Remove any dirt by running each branch under warm water and lay out to dry.
2 Cover each branch with a generous layer of decoupage medium using the paintbrush. Sprinkle the glitter on top of the decoupage medium and allow one hour to dry. Using the spray adhesive, apply one coat to seal the glitter. Allow to fully dry for 24 hours.
3 Fill a vase halfway with pebbles or glass marbles. Arrange the finished branches in the vase.
Items you will need
Branches

Paintbrush

Decoupage medium

Glitter

Spray adhesive

Pebbles or glass marbles

Vase
Tips
Choose oak tree branches over pine tree branches. Oak tree branches are stronger and cleaner.

Choose glitter that is a fine powder.

You can also alternate different color glitter for each branch.

Use either glossy or matte decoupage medium. A matte finish will create a more subdued effect, while a glossy effect will create a shine underneath the glitter.

An alternative to decoupage medium is thinned white glue.
Warning
Branches may have sharp edges. Use gloves when gathering branches and keep them away from small children. Apply decoupage medium and spray adhesive in a well-ventilated area.
Photo Credits
Ryan McVay/Photodisc/Getty Images