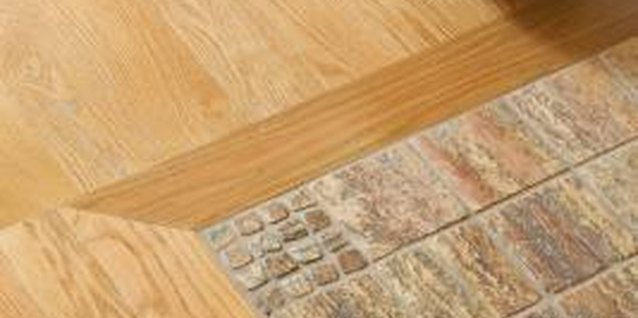 Maybe it's human nature, but many people can't quite believe that anything can be cleaned with water alone. If you're sizing up your new ceramic tile, you will have to embrace a sea change in your thinking. But your ship has come in; whether it serves as your new floor or countertop, ceramic tile is incredibly simple to clean and shine.
1 Get a leg up on keeping your ceramic floors shiny by vacuuming or dry-mopping them regularly. More than any other "foreign" substance, dust will make your ceramic tile look dull in no time.
2 Damp-mop your ceramic tile at least once a week. Water alone, cool or warm, will keep your ceramic tile looking its shiny best.
3 Mix in just a dab of mild dish soap in your wash bucket if your ceramic feels sticky, greasy or appears to have fallen victim to a dirt stain. Wipe the tile with a damp, non-abrasive sponge to make it shine.
4 Attack soap scum and hard water stains on ceramic tile in the shower and grease stains on kitchen backsplashes with care. Many all-purpose, commercial cleaning products are safe on ceramic tile, as long as they don't contain ammonia, acid, vinegar or chlorine. Abrasive cleansers also should not be used on ceramic tile. Many products that are advertised to be "green" should be safe, but always check the label to be sure.
5 Buff ceramic tile that appears to be cloudy or foggy with a clean, dry cloth. Often, what appears to be dirt on ceramic is really just condensation, so buff it away to restore the shine.
Items you will need
Vacuum or dry mop

Mop

Bucket

Mild dish soap

Non-abrasive sponge

Dry cloth
Tips
Wipe the ceramic tile in your shower with lemon oil twice a month to keep pesky water stains and mildew at bay.

Protect your ceramic floors by placing throw rugs in high-dirt areas, such as by doors, in hallways and in front of kitchen work areas. Place felt pads under any hardwood or metal furniture that comes into contact with your ceramic floor.
Photo Credits
Jupiterimages/Comstock/Getty Images