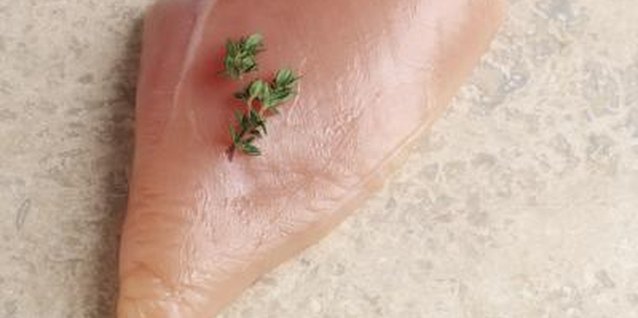 What more could you ask for than chicken, Swiss cheese and ham in one tempting bundle? What's not to love? When the menu calls for chicken cordon bleu and you've got kids at the table, make a few simple recipe modifications and suddenly this sophisticated entrée becomes completely kid-friendly and totally delicious. Invite your little one into the kitchen to help with some of the dinner prep and she'll be even more excited to eat her own cooking. This recipe serves four to six.
1 Pound the chicken breast halves with the meat mallet until they're about 3/8-inch thick. Spread the flattened chicken breasts on the counter.
2 Spread out the four slices of cheese on the counter. Ask your toddler or preschooler to top each slice of cheese with a slice of ham.
3 Transfer the cheese and ham to the prepared chicken breast. Tthis is a job for Mom, though, to avoid your little one touching the raw meat.
4 Roll up the chicken around the cheese and meat, keeping everything neat and tight. When you finish rolling, tie the bundles with two 8-inch lengths of kitchen twine.
5 Roll the bundles in the breadcrumbs to coat them generously.
6 Heat butter in a large skillet over medium heat. Add the chicken bundles to the hot butter and cook them until you've browned all the sides evenly. Pour the chicken broth into the skillet and cover the pan. Turn the heat down to low and let the chicken cook for about 20 to 30 minutes -- until the chicken cooks through.
7 Remove the chicken and put it on a platter. Mix the cornstarch and cream together until it's smooth and then stir it into the pan juices. Mix everything well and turn the heat up to medium. Stir constantly until the sauce thickens and then remove the skillet from the heat.
8 Untie the kitchen twine and pour the sauce over the chicken bundles.
Items you will need
4 boneless chicken breast halves

Meat mallet

4 Swiss cheese slices

4 ham slices

Kitchen twine

1/2-cup fine breadcrumbs

4 tablespoons butter

Large skillet

1/2 cup chicken broth

2 teaspoons cornstarch

1/2 cup cream
Tips
Traditional chicken cordon bleu cooks the chicken in white wine. By substituting chicken broth for wine, your chicken cordon bleu will appeal to the toddler and preschool set.

Instead of using toothpicks to hold the chicken bundles together, kitchen twine serves the purpose, while providing a safer alternative.

If your child won't tolerate Swiss cheese, feel free to substitute cheddar or American cheese instead.
References
The Big Book of Chicken: Over 300 Exciting Ways to Cook Chicken; Maryana Vollstedt
Simply Suppers: Comfort Food You Can Get on the Table in No Time Flat; Jennifer Chandler
Photo Credits
Polka Dot Images/Polka Dot/Getty Images