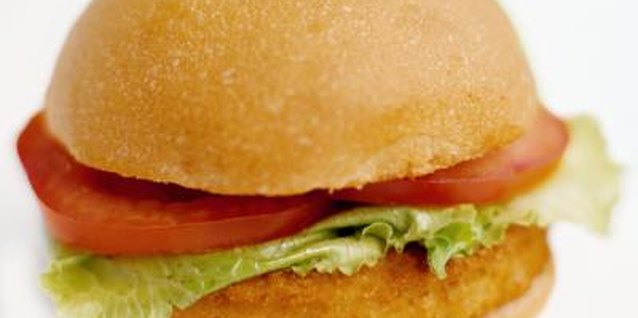 Stop wasting money on those so-called fast food chicken sandwiches, no matter how much your tot screams as you drive by those golden arches. Those sandwiches are often full of filler and unnecessary additives and chemicals. You may not have a colorful bag or the plastic toy that the fast food restaurants have, but you can make chicken patties at home that are way healthier and tastier for your kid in no time.
1. Basic Chicken Patty
1 Ground up the skinless, boneless chicken breasts in a food processor. You may be able to find pre-ground chicken at your grocery store, but make sure it contains all white meat. Your other option is to pick up the chicken breasts from the display and ask the meat counter to grind it up for you.
2. Basic Chicken Patty
2 Combine the ground chicken breasts with a handful of seasoned bread crumbs and chopped onions. Season to taste.
3. Basic Chicken Patty
3 Form the mixture into bun-sized patties and cover each patty in seasoned bread crumbs.
4. Basic Chicken Patty
4 Fry the chicken patties in a pan with a thin layer of extra virgin olive oil, until both sides are browned and the chicken is fully cooked through.
5. Chicken Patty Extras and Alternatives
1 Form the patties into child-friendly shapes using cookie cutters. You can find cookie cutters in a variety of shapes, from stars and Teddy bears to crescent moons and dinosaurs.
6. Chicken Patty Extras and Alternatives
2 Use whole grain panko bread crumbs for a healthier option, which do not soak up oil like traditional bread crumbs. Sneak nutrition into your little veggie hater by adding finely chopped or pureed vegetables such as carrots, peas, sweet potatoes and kale to the chicken mixture.You can even add applesauce to the chicken patties for moisture and added flavor.
7. Chicken Patty Extras and Alternatives
3 Make allergy-free chicken patties. If your kid has a gluten-allergy, skip the bread crumbs altogether, or use a gluten-free flour, like potato starch. For dairy allergies, you can replace regular milk with any alternative such as soy or almond milk.
Items you will need
Skinless, boneless chicken breasts

Food processor

Seasoned bread crumbs

Onions, finely chopped

Salt

Pepper

Frying pan
Tip
If you are a vegetarian family, you can make veggie patties using beans, chickpeas, and rolled oats as a base instead of ground chicken.
Photo Credits
Ciaran Griffin/Stockbyte/Getty Images