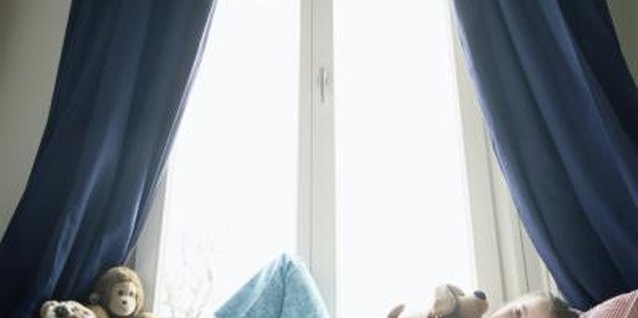 Curtains, especially long and luxurious panels, can be expensive. When your budget for new draperies does not fit the price tag on store-bought panels, consider using bed linens to make your own easy window treatments. King-size sheets, which are an average size of 108 inches by 102 inches, are a budget-friendly alternative to designer fabric. Plus, they come in a vast array of colors and trendy patterns to match your room. Because sheets come sewn on all sides, only minimal sewing is needed to transform them into stylish curtain panels for your windows.
1 Fold your king-size sheet in half lengthwise, and cut down the center fold, creating two panels.
2 Turn over the cut edges of the sheet 1/2 inch, and iron it down.
3 Fold over another 1/2 inch, and sew the edges in place using a simple straight stitch.
4 Create a rod pocket by folding the top edge of each panel 3 inches, and stitch in place.
5 Hang your curtain panels on the installed curtain rod to check for length. Use a ruler and straight pins to mark desired length, usually where they just brush the floor, or longer if you want the curtains to pool at the bottom.
6 Remove curtains from the rod. Fold at the pins to create the new bottom edge of each panel, and iron the fold.
7 Stitch the new hem 1/2 inch down from the turned-up edge.
Items you will need
Scissors

Iron

Ironing board

Sewing machine

Curtain rod

Ruler

Straight pins
Tips
When hemming your curtains, use a machine size 14 needle, and set your machine to sew a medium-length straight stitch.

If your sheet has a decorative border along the top edge, use curtain rings and clips to hang each curtain panel instead of folding it over to sew a rod pocket.

For a no-sew option, use iron-on fabric tape in place of straight stitches.
Warning
Keep scissors, sewing needles and straight pins out of reach of children.
References
Domino: The Book of Decorating; Deborah Needleman
The Sewing Book; Alison Smith
Photo Credits
Ryan McVay/Photodisc/Getty Images