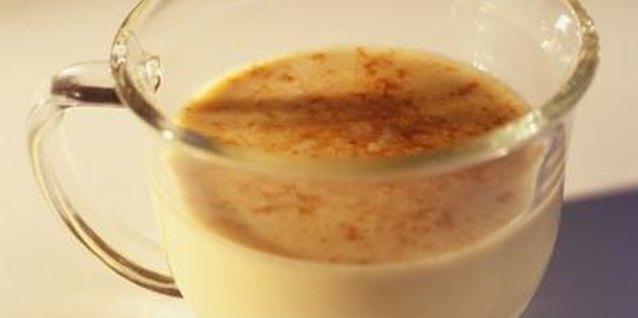 While eggnog is traditionally a holiday drink, you don't have to wait for the holidays to roll around to make it for your little ones. Eggnog is packed with protein and vitamin D -- two nutrients that growing children need. It's also packed with approximately 125 calories a serving, so you might want to keep that in mind as well -- particularly if you're tempted to indulge in a cup or two yourself. This recipe makes six 1/2-cup servings.
1 Measure the milk, vanilla and nutmeg into a large bowl. Whisk these ingredients until frothy.
2 Mix the eggs and sugar in a second large bowl, whisking the mixture until it's creamy and lemon yellow. It will also thicken a bit.
3 Pour the milk mixture into a large saucepan and set the pan over medium-low heat on a cook top. Stir the mixture slowly over the heat until the milk begins to boil gently. Turn off the heat and move the milk mixture from the stove. Set it on a trivet or other heatproof pad. Drop in a few cloves and stir the mixture slowly as it cools. Seat any supervising children well away from the stove and hot liquids.
4 Ask another adult to hold the bowl with the egg mixture as you pour about one-third of the milk mixture into the eggs. Whisk the milk and eggs together, then continue slowly adding milk, whisking as you add. Again, keep little supervisors at a distance -- as hot milk can splash!
5 Pour the mixture back into the large saucepan and cook it over medium heat for a few minutes, stirring constantly, until it begins to thicken. Do not boil the mixture or you'll end up with custard.
6 Remove the mixture from the stove and let it cool a bit. Fish the cloves out and add a pinch of salt, if desired, to deepen taste.
7 Chill the eggnog thoroughly -- preferably overnight to let the flavors blend -- before serving. Garnish the half-cup servings with more nutmeg or with cinnamon.
Items you will need
6 large eggs or egg substitutes

6 cups milk

3/4 cup sugar

1 to 2 tablespoons vanilla

1 teaspoon nutmeg

2 or 3 whole cloves

Cinnamon to sprinkle

Measuring cups and spoons

2 large bowls

Large saucepan

Wire whisk

Wooden spoon

Pitcher
Tips
Use egg substitute to skip the cooking step -- which pasteurizes raw eggs -- and to avoid the cholesterol found in egg yolks. One egg is equivalent to about 1/4 cup of the substitute.

Use low-fat or nonfat milk to cut back on the calories.

Add a pinch more nutmeg and cinnamon, or a drop more vanilla, to enrich the taste of egg substitutes.

If refined sugar is a concern, use sugar substitutes or alternatives such as xylitol, raw sugar or molasses to replace some or all of the sugar in the recipe.
Warnings
Do not allow children to handle hot liquids. Set a good example; wear gloves and work carefully.

Older recipes may not include pasteurization. Adapt them or use egg substitutes.
References
Better Homes and Gardens Junior Cook Book for the Hostess and Host of Tomorrow; Eggnog; 1955.
Photo Credits
Spike Mafford/Photodisc/Getty Images