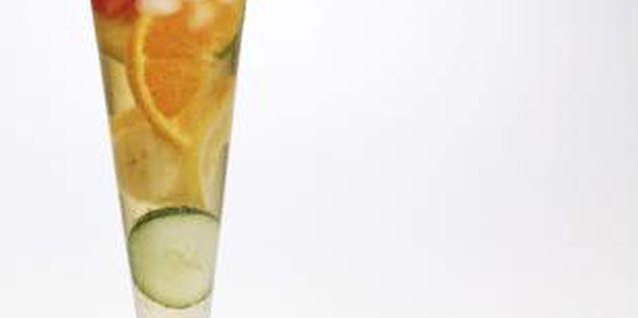 The frozen Bellini, the mimosa's fancier and chillier cousin, can accompany a long brunch just as well as it can buoy a bridal celebration. Based on a simple mixture of peach, bubbly and booze, the fruitful flavors play off sparkling wine's effervescence to create a light and tasty chilled beverage. If you only have peach puree and no peaches, you get to forgo the making of the puree and dive right into creating the cocktail.
1 Pour 1 part peach schnapps and 3 parts sparkling wine into the blender.
2 Add 1/2 cup of peach puree and 2 cups of ice for each part of peach schnapps used.
3 Blend at a slow speed until the ice is broken down and the contents are smooth.
4 Pour the blender's contents into champagne flutes or other glassware, leaving about an inch from the rim. Top with a dash of sparkling wine.
Items you will need
Blender

Ice

Peach schnapps

Peach puree

Sparkling wine

Glassware
Tips
Prepackaged frozen peach puree keeps longer than fresh puree and can be easily stored in the freezer until the next cocktail party.

Add a twist of lemon for more fruitiness or a cherry for show.

You can substitute rum for the peach schnapps, or you can just leave out the schnapps and add more sparkling wine for a less potent cocktail.
Warning
Always drink responsibly, and have a designated driver if your party takes you on the road.
Photo Credits
Jupiterimages/Comstock/Getty Images