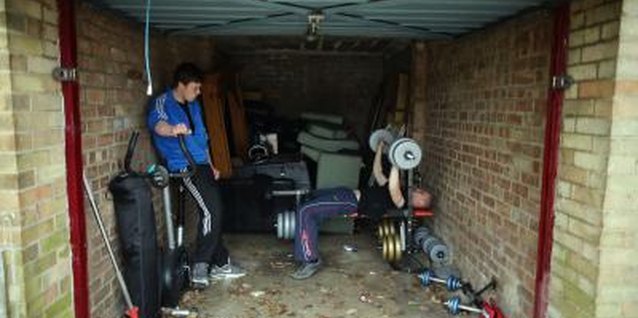 If you have extra room in your garage or you don't mind parking a car or two outside, you can transform your car's home into a workout space. With your own home gym, you can get an effective workout while the kids are napping, playing or doing their homework. Don't worry if you can't afford fancy equipment. Simple exercise tools can get the job done, no matter what type of fitness goals you've set.
1 Fill empty milk or laundry detergent bottles with solid materials and use them as hand weights. A 1-gallon jug, for example, weighs about 13 to 14 pounds if you fill it with sand, or 8 to 9 pounds filled with water. Use the bottles as you would dumbbells, performing exercises such as curls, triceps extensions, chest or shoulder presses, squats or lunges. You can also grasp the jug's handle and swing it, as you would a kettlebell.
2 Purchase used equipment by browsing online sale or auction sites, or by visiting garage sales and thrift shops. Examine the equipment, if possible, before buying. Make sure detachable weight plates on barbells and dumbbells can be secured properly. Listen for odd noises if you buy a stationary bike or other exercise machines. Don't buy used equipment from health clubs, which may be dumping the equipment because it's worn out.
3 Use spare rope or a long cord as a jump rope for your cardio needs. Alternatively, purchase a new jump rope, which sells for approximately $15.
4 Purchase exercise bands, which cost about $10 to $15 apiece. The bands come in a variety of strengths and can replicate many free weight or machine exercises, often at a much smaller cost. Possible exercises range from curls and pull-downs to chest presses and reverse crunches.
5 Use a stability ball. For about $20 to $40, you gain a versatile tool that helps you perform core exercises such as crunches, bridges and planks. The ball can also double as a bench -- lie face up on the ball to do flyes, presses and other dumbbell exercises.
Items you will need
Milk or laundry jugs

Barbell

Dumbbells

Used exercise machines

Jump rope

Exercise bands

Stability ball

Exercise mats
Tip
Add some age-appropriate equipment that your kids will enjoy, such as a small rebounder, and work out as a family.
Warnings
Consult a physician if you're starting a new exercise routine in your home gym, particularly if you've been inactive or have any health concerns.

Place exercise mats beneath equipment such as rebounders or stability balls, to avoid falling directly on the garage's concrete floor.
Photo Credits
Christopher Furlong/Getty Images News/Getty Images