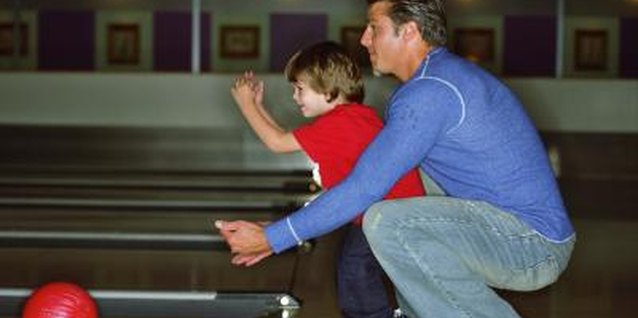 He's king of the lanes and the best two-hand roller in the West – or maybe he just thinks it'd be fun to bowl a few games with his little friends. If you're throwing a bowling party for your little guy's next birthday, turn the party group into a little team with some special bowling team T-shirts. If you're not the craftiest type, that's okay. You don't even need to pick up a sewing needle for these bowling shirts. Just imagine your little bowling team in front of the lanes for some picture perfect moments!
1 Type each child's name in a word processing program. Above each name, insert a picture for the team's logo. You can make the logo a single bowling pin, a bowling ball or a bowler in mid-stride.
2 Print the little name tags onto iron-on transfer paper. Cut out each youngster's tag.
3 Place one tag on the top, right hand side of the front of a plain white T-shirt. Iron the tag onto the shirt according to the instructions that came with your transfer paper. Let it cool and then remove the paper backing. Repeat to add a name tag to each little bowling shirt.
4 Create a team name for your little group of bowlers such as the "Bowling Alley Rollers" or "The Pin Kings". Type the name in a large font on the computer.
5 Create a team logo or image. Find a large bowling-related image from clip-art or come up with your own design in a draw program. Place the image centered beneath the team's name. Type your little munchkin's name below the image as well as the date to commemorate his birthday.
6 Print one large name and logo onto another piece of transfer paper and trim away the excess. Place it on the back center of one of the shirts and iron. Let the paper cool and then remove the backing. Now you've got a team bowling shirt with a personalized name patch on the front and a team emblem on the back.
Items you will need
Iron-on transfer paper

Iron

Plain white T-shirt
Tips
If you've got a little extra cash to burn, forgo the T-shirts and opt for plain button-down jersey-style shirts instead for a bowling team shirt that would rival any league.

If you're one of those crafty mamas, you can turn the bowling shirts into real treasures by hand embroidering the images and names onto the shirts instead.
Photo Credits
Ryan McVay/Lifesize/Getty Images