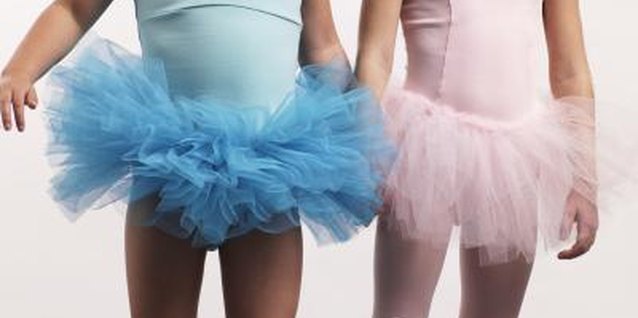 Add a little frilly fantasy to your little girl's room with a no-sew tutu valance. A dancing ballerina, princess or fairy room decor style will be enhanced with a tutu skirt-inspired window treatment. The poufy tulle will provide years of make-believe dream clouds to sleep under. Choose colors to coordinate with the room's decor, but save money by using the window's existing curtain rod. Quick to make, this no-sew project can even be crafted with your child's help.
1 Adjust a standard curtain rod to fit your window's width measurement. Wrap clear packing tape around the slide connection at the center of the rod. This will prevent the rod size from shifting while attaching the tutu to the rod.
2 Trace an 8-inch square on a scrap of corrugated cardboard. Cut out the square using a craft knife. Note: To prevent damage to your work surface, cut the cardboard on top of a cutting board.
3 Center the end of a 25-yard roll of 6-inch-wide tulle on one edge of the cardboard square. Make a mark on the edge beside the tulle to identify the beginning, top edge.
4 Wrap the entire roll of tulle around the top and bottom edge of the square keeping the tulle flat and straight. Trim the excess from the end even with the edge of the square.
5 Insert one blade of your scissors under the tulle on the beginning, top edge of the cardboard. Cut across the tulle. You will now have approximately 56 strips of tulle that measure 16 inches long.
6 Hold two strips of tulle together. Wrap the strips around the prepared curtain rod and tie the ends in a knot on the front of the rod. Continue to tie bundles of two strips around the rod until all of the strips have been used.
7 Repeat Steps 3 through 6 until the curtain rod has been completely covered. Note: To determine the amount of tulle needed for the rod's length, figure 1 1/2 rolls of 25-yard spools of tulle for each foot of curtain rod.
Items you will need
Standard curtain rod

Measuring tape

Clear packing tape

Corrugated cardboard scrap

Ruler

Craft knife

Cutting board

1 1/2 rolls of 6-inch-wide tulle, 25 yards per roll

Marking pen

Scissors
Tip
For a tutu valance with multiple colors, cut all of the colored rolls before you begin to tie. Bundle two strips of differing colors together and tie around the rod.
Photo Credits
Ryan McVay/Stockbyte/Getty Images