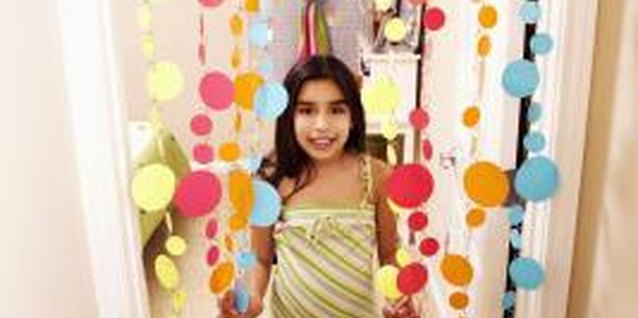 Create a spot where you and your guests can make a grand entrance at your next party -- make a novelty door curtain. Making your own door curtain enables you to unleash your creativity to come up with a customized design that is fitting for your holiday or event. Whether you're celebrating a birthday or a sporting event, having a Halloween party or a luau, a door curtain is a do-it-yourself project that fits any skill level, and any budget.
1. Streamers and Die Cut Door Curtain
1 Measure the height of your door. Cut 12 to 36 streamers to that length, depending on how sparse or full you want your door curtain to be.
2. Streamers and Die Cut Door Curtain
2 Wrap one end of each strip of streamer around a tension rod, stapling or gluing it in place. Put the tension rod in the door frame as high as it will go. Trim the streamers at the bottom so they are even and end about 18 inches from the floor, about knee height.
3. Streamers and Die Cut Door Curtain
3 Get 12 to 36 die cuts in colors and shapes that reflect the party theme. For example, you might use fish or bubble die cuts for an undersea theme, football die cuts for a super bowl party or yellow smiley face die cuts for a retro '60s theme. Glue the die cuts to the crepe paper strips, spacing them evenly throughout the doorway.
4. Halloween Spooky Spider Curtain
1 Get a piece of cheesecloth cut to about 1 1/2 times the width of your door, and 3/4 the length. Lay the cheesecloth out on the table.
5. Halloween Spooky Spider Curtain
2 Fold over a 2-inch flap on the end that will be the top of the curtain. Use a thread of a similar color to sew a hem along the edge of the flap. This will create a "pocket" for a tension rod.
6. Halloween Spooky Spider Curtain
3 Slip the curtain on the tension rod and hang it in the door as high as it will go in the door frame. Cut into the bottom edge with scissors to create a jagged, rough-looking, uneven edge across the bottom of the curtain. Cut three or four slits going almost all the way up to the top of the curtain, so they'll open easily for guests coming through.
7. Halloween Spooky Spider Curtain
4 Hang plastic spiders randomly all over the curtain. Use spiders meant to hang on fake spider webs because they have small hooks molded into the back of them for easy hanging.
8. Luau Curtain
1 Affix a long, adult-sized raffia hula skirt across the top of the door frame using push pins or adhesive hooks. Pull it taught enough so it doesn't sag in the doorway. Cut away excess width if necessary.
9. Luau Curtain
2 Select an assortment of colorful silk or plastic tropical flowers. Remove them from stems if necessary.
10. Luau Curtain
3 Hot glue the silk flowers sporadically on strips of grass on the skirt. Distribute the flowers evenly over the skirt for a visually balanced look.
Items you will need
Tape measure

Crepe paper streamers

Scissors

Tension rod that fits the doorway

Stapler

Hot glue gun

12 to 36 die cuts

Cheesecloth

Thread (same color as cheesecloth)

Sewing needle

Adult long raffia grass skirt

Thumb tacks or adhesive wall hooks

Silk or plastic flowers (medium to large blooms)
Tips
Look for cardboard or foam die cuts at craft stores that sell paper crafting supplies.

Look for Halloween cheesecloth that comes in black, gray or orange. When making a Halloween curtain, choose spiders in colors that stand out on the curtain background. If using a gray curtain, use black spiders; if using a black curtain, use orange or green spiders.
Warning
Don't let your streamers hang any lower than knee height or guests may step on or get feet tangled in them, accidentally ripping them off.
Photo Credits
Jack Hollingsworth/Photodisc/Getty Images