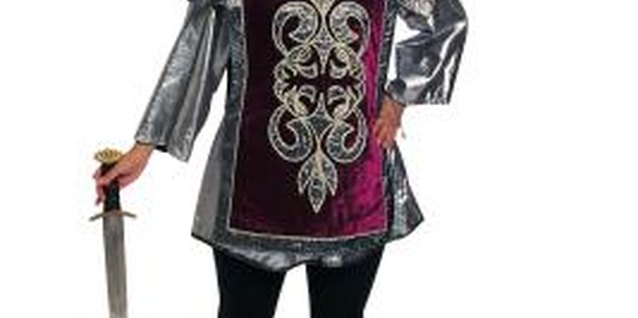 Every parent has heard the words at one time or another: "Mommy I want to play pretend" or "Let's play dress-up!". However, when it comes to boys, there aren't a lot of options except your basic fireman, policeman or cowboy costume. If you want to add to your toddler's choices, create some new costumes for him such as a knight's tunic, and give him a push into his imagination.
1 Trim one side of the cloth with scissors so that instead of 3 feet square, the felt is 2-feet by 3-feet.
2 Fold the cloth in half along its length, so that it is 1 1/2-feet by 2-feet. Cut a half circle in the center along the fold for your boy's head. Start small and enlarge if you need to after checking to see if he can get through it. Cut a V at the front side of the tunic for more room.
3 Place the cloth over your child, inserting his head through the hole that you created. Have him raise his arms so that you can see below them along the material.
4 Tack the back and front of the felt together using the needle and thread, several inches below his arms. Tunics have large arm holes, and you want him to be able to get it on easily. Make two or three tacks down each side to secure it, and then have him take it off.
5 Draw a design on the front of the felt as best you can, letting your child choose the design from pictures. Let him help color in the design with the markers.
Items you will need
1 yard felt

Scissors

Needle and thread

Markers
Tips
If you can find one, give him a play sword to go along with the costume; just be sure to supervise him with it. Or, you could make a sword out of cardboard and paint it silver or cover with aluminum foil.

As an alternative to tacking the sides, you could sew tie strings on the sides for closure.
Photo Credits
Comstock/Comstock/Getty Images