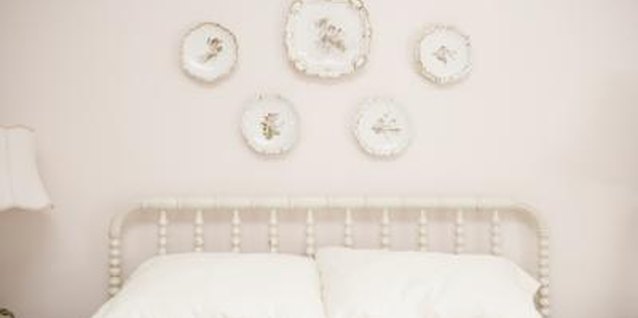 The hallmarks of shabby chic pillows are the faded colors and soft textures of quality old fabric. The soft-looking textiles that define this style call out "touch me" to anyone who passes. This is the design aesthetic of the romantic who loves pillows. Found in every size and shape, shabby chic pillows are covered in a mixture of fabrics and embellished gently with only the best trims. Start your pillow collection by understanding the elements that set this design style apart.
1 Use natural fabrics such as linen, cotton, silk or a blend of natural fibers. Look for high texture value, like slubbed linen or silk velvet. Pre-wash lightweight fabrics and leave the wrinkles intact. This style does not require ironing.
2 Choose fabrics in natural and faded colors. You won't find pure hues such as tomato red or lemon yellow in shabby chic decor. For example, red fades to pale pink. Indigo washes out to pale blue or almost off-white. Colors are grayed and faded to pastels. Look to old Aubusson or needlepoint area rugs for inspiration.
3 Opt for floral or botanical prints over stripes. Geometric prints are rare in shabby chic decor. Unlike with country decor, stripes and florals don't get paired in shabby chic pillows. Two or more florals featuring the same faded colors and used on two separate pillows is more typical.
4 Select trims and embellishments made of natural fibers and in faded colors. Lace should be off-white as opposed to stark white, for example. Trim should blend with the pillow fabric, rather than sharply contrast it. Use handmade filet crochet lace whenever possible -- the more vintage the better.
5 Consider tea-dying white natural-fiber fabric or trim to achieve the old, slightly worn look. Soak the item in strong pekoe tea until you achieve the desired sepia tint.
6 Use only down, feather or poly-down inserts in your pillows and keep the filler loose. Hard-packed pillow forms do not fit the easy style of shabby chic.
7 Construct your pillows with simplicity. One good fabric with a soft trim is enough per pillow. You don't typically see a lot of button detail, double layers of stiff ruffles or trims, or mixed fabrics in one pillow in shabby chic decor.
8 Layer the pillows. Make lots of different sizes and shapes and create a nest of pillows on your bed or sofa. Symmetrical pillow arrangements are rare in the shabby chic world.
Tips
Stalk second-hand and thrift stores for old dresses, chenille bedspreads and crocheted and tatted doilies. Use these faded high-quality fabrics for your pillow covers.

If you choose to use new fabric and trim, prevent shrinkage by pre-laundering the fabric.
References
Photo Credits
Thomas Northcut/Photodisc/Getty Images