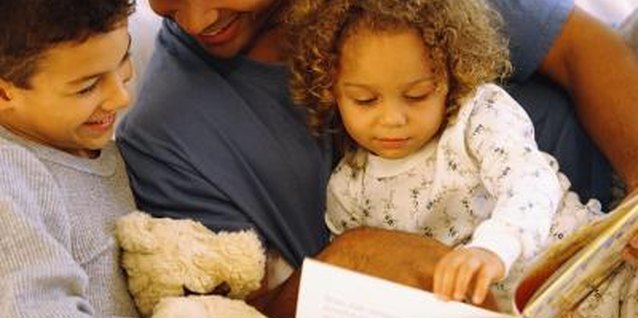 Soft books are perfect for toddlers who are constantly putting things in their mouths. Because soft books are made of fabric, they can't get messed up by drooling tongues or teeth marks. You can make your own soft book to include whatever you want. These directions simply call for fabric glue; if you would rather sew the book, simply do so where glue is indicated. Planning the book is fun, so be sure to include plenty of time for that.
1. Planning your Book
1 Decide on a theme for your book. Although a theme is not altogether necessary, it does provide cohesion to the book. Some suggestions include "Colors," "Numbers," "Shapes," "Animals," "Things That Go" or "All About Me."
2. Planning your Book
2 Pick out felt and fabric for the book. The felt will be the pages of the book; use all one color or mix and match. The fabric scraps are for the pictures and designs within the book. If you are doing a book all about colors, make sure you have at least one scrap of fabric for each color.
3. Planning your Book
3 Cut out your pages for the book. A good soft book is about eight inches square, so cut each page 8 inches by 9 inches. The extra inch is for the binding.
4. Making the Book
1 Lay each felt page on top of each other. The 9-inch side should be horizontal in front of you. Take your ruler and fabric pencil and draw a line vertically 1 inch from the left side of the book. This represents the binding area. If you need to, draw that same line on each page so you don't forget and put things in that space.
5. Making the Book
2 Design each page. This may be as simple as putting a square colored fabric on each page or cutting vehicles or animals out of fabric. Glue them in place on the felt page, leaving an extra inch to the side.
6. Making the Book
3 Allow the pages to dry completely before attempting to assemble them. While you are waiting, cut out a binding strip from felt, about 8 inches by 2 inches, in the same color as the cover or in a complementary color.
7. Making the Book
4 Assemble your book in order and glue the pages in place in the binding area. Be generous with the glue; you don't want your book falling apart the first time you go to read it.
8. Making the Book
5 Put glue on one side of the binding strip and fold it over the binding area, covering all the rough edges of the binding. Place something heavy on the book to hold it flat while it dries completely.
Items you will need
Felt

Fabric pieces

Scissors

Ruler

Fabric pencil

Fabric glue
Tips
If you are really ambitious, you can add zippers, buttons or other 3D effects to your soft book.

Write words in your book using a fabric pen. It won't come off in the wash.

If you want pictures, print them onto iron-on transfer paper, then transfer them to fabric. Use the pictures in the book to remember family and friends who might live far away.
Warnings
Be aware when adding embellishments to your book that your toddler might try to pull off, as they can present a choking hazard.

Be sure the fabric glue you use is non-toxic, because the soft book may find its way into a mouth.
Photo Credits
Stockbyte/Stockbyte/Getty Images