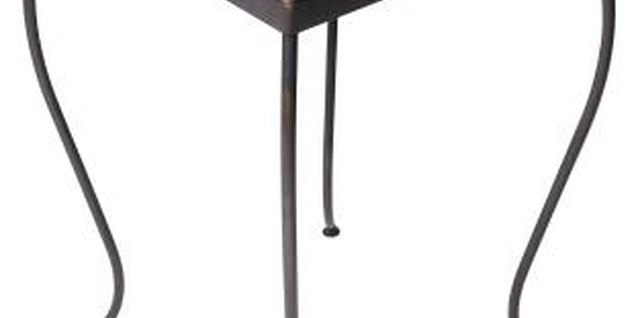 Turn broken plates, chipped tiles and old china teacups that have seen their best days into attractive mosaic tabletops. Tables with tiled tops are almost indestructible in their design. They don't require hot pads or regular maintenance. Because they're finished with a sealant, a simple dusting now and then with a dry cloth is all that's needed to keep them looking bright and new. Tables with mosaic tops fit equally well in kitchens decorated in French Country design or in shabby chic-styled bedrooms.
1 Use medium-grit sandpaper to smooth the tabletop. Wipe off the dust with a soft, dry cloth.
2 Use a paintbrush to apply primer to all surfaces of the tabletop to help prevent warping. This is especially important if your table will be used outside. Allow your tabletop to dry overnight.
3 Cover a solid work surface with newspaper or a drop cloth, lay out your pieces of broken plates, and assemble your tools.
4 Put on the safety glasses and gloves. Beginning in a corner of the tabletop, position the pieces of broken plate to give you an idea of how your finished project will appear.
5 Take the pieces off the table and use the notched trowel to apply a thin coating of mastic -- for an indoor tabletop -- or thinset if your table will be outside in the weather. Mastic comes ready to use in a container. To mix thinset, follow the directions on the package.
6 Work in one small area at a time, applying mastic and then positioning the pieces of broken plate and tile. Place pieces as closely together as possible. You may need to use the tack hammer or tile nippers to create smaller pieces of tile or to cut around the ridges on the backs of the plates. Save the ridged pieces for other projects or discard them.
7 Allow your finished tabletop to dry overnight, and then mix and apply the sanded grout according to directions using a trowel. Use a grout float or plastic putty knife to push grout into all the crevices between tile pieces.
8 Wipe over the tiles with a damp, round-cornered sponge to remove the extra grout and to help create uniform grout lines between the pieces. Use several large sponges and rinse them in a bucket of cold water after each pass, taking care not to wash the grout out of the grout lines. Once the grout has set for several hours, buff the surface of the tabletop with a soft, dry cloth to remove grout haze. Allow the tabletop to dry for 24 hours.
9 Seal your tabletop with several coats of grout and tile sealer, allowing each to dry thoroughly between.
Items you will need
Wood tabletop

Medium-grit sandpaper

Rags

Primer

Paintbrush

Safety glasses

Gloves

Tack hammer

Tile nippers

Notched trowel

Mastic or thinset

Bucket

Sanded grout

Grout float or plastic putty knife

Round-cornered sponges

Grout

Grout and tile sealer
Tips
If you plan to create a design in the center of your mosaic tabletop, set this area first and then radiate your design out from it.

Paint any areas of the table that aren't being tiled with exterior paint.
Warning
If you're not planning to add trim to your tabletop, take care to use smaller, smoother pieces of tile around the perimeter to prevent rough, unfinished edges. You might also use a file to smooth the tiles that edge your tabletop.
Resources
Photo Credits
Hemera Technologies/PhotoObjects.net/Getty Images