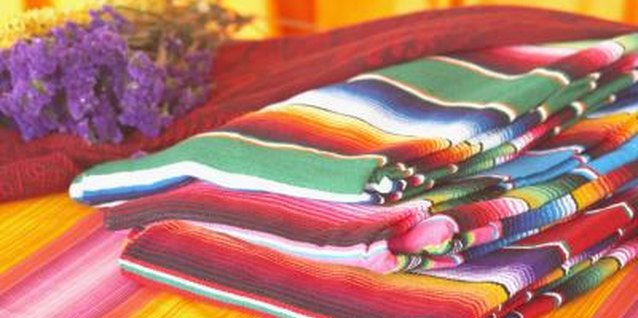 There's nothing like a fort to lure children into an afternoon of make-believe adventures and pretend games. Most kids are masters of assembling a hodge-podge of materials to build with, but might have trouble keeping everything in place. If your kids need a bit of help or you'd like to create a fort that lasts for a few days, a set of chairs and several blankets are all you need to make the fort of your kids' dreams.
1 Assemble several chairs in a circle. Use armchairs or recliners in your living room or playroom or grab an extra set of dining chairs from the garage. Move the kitchen table and use your dining chairs, if desired.
2 Drape several large blankets over the chairs. Place the ends of the blankets on the seats or backs of the chairs to create a roof in the center of the fort. One large blanket works for a small fort, but you might need to combine several blankets to make a bigger one.
3 Place a yardstick or broomstick in the center of the fort to make the roof higher and create a roomier space. Alternatively, skip the stick if the roof doesn't sag too much.
4 Secure the blankets with heavy objects to keep them from slipping off as you play. A stack of heavy books, a set of bookends or a couple of cast-iron skillets work well. Lay the edge of a blanket on the seat of a chair and set the object on top to hold it in place.
5 For a one-person fort, push two chairs close to each other and lay a blanket across the opening. Secure the ends of the blanket onto the seats of the chairs with heavy objects.
Items you will need
Chairs

Blankets

Heavy objects, such as books

Yardstick or broomstick
Tips
Deck out your fort with books, toys and snacks. Include a couple of flashlights so you can read your child's favorite story, and a bowl of popcorn to keep her from getting hungry. You can also bring in action figures, dolls or stuffed animals and pretend you're in a cave, rocket or submarine.

Another option is to drag the cushions off several easy chairs and arrange them in a square or circle before draping the blankets over the top. Place the cushions near the actual chair to keep them from tipping over.
Photo Credits
Jack Hollingsworth/Photodisc/Getty Images