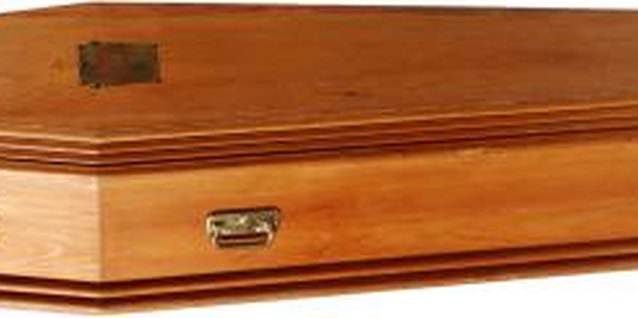 Behold the allure of the vampire: Youthful good looks paired with age-old wisdom, a stone-cold facade and a true knack for taking a bite out of life. Vampires have emerged from the dark shadows to become saucy and sensational fixtures in films and books favored by moms looking for an escape. Continue the break from reality with a vampire-themed room to suit both the living and the undead.
1. Prepping the Space
1 Prepare the walls for painting by removing any and all wall decorations.
2. Prepping the Space
2 Fill in any holes with joint compound and let dry. Lightly sand the area so that it blends in with the remainder of the wall.
3. Prepping the Space
3 Prime the walls with a latex-based primer that you have had tinted to match your black wall paint color. Let the primed walls dry.
4. Prepping the Space
4 Paint the walls with black latex paint in a flat or eggshell finish, both of which have no sheen. Painting with high-gloss paint will show the wall's imperfections, and vampires are anything but imperfect. Paint the walls with dark charcoal gray latex paint, in a flat or eggshell finish, if black is too dark.
5. Prepping the Space
5 Paint the window and wall trim, if any, the same shade of black or charcoal gray. Use a latex paint with a semi-gloss finish.
6. Furnishing and Accessorizing the Space
1 Hang red satin curtains, reminiscent of coffins, or a thick, luxurious fabric such as velvet. Choose a fabric that blocks as much natural light as possible.
7. Furnishing and Accessorizing the Space
2 Add mood lighting with a chandelier, painted white or blood red. Hang it in the center of the ceiling. Install a dimmer switch to control the lighting, leaving ample lighting when kids are in the room and less lighting to set the mood. Display wrought-iron candelabras throughout the room for additional otherworldly appeal.
8. Furnishing and Accessorizing the Space
3 Bring in one new piece of ornate, comfortable blood red or snow white furniture, such as a fainting couch or chaise lounge. Choose a piece with tufted cushions and a high back, making it a favorable spot for canoodling with your favorite blood sucker.
9. Furnishing and Accessorizing the Space
4 Change the remaining furnishings, if needed. Keep the items that speak to the vampire aesthetic, such as metal and wooden furnishings with ornate scrolls and other ornamentation. Revamp the country furnishings; slipcover the red and green plaid couch and paint the shabby chic end table an inky shade of black. Buy a red and black bedding set with coordinating pillowcases if you're decorating the bedroom.
10. Furnishing and Accessorizing the Space
5 Accessorize the remaining furniture. Add subtle pops of color with paisley throw pillows in shades of white, red and gray. Lend a touch of glamour with a luxurious, white fake fur wrap draped over the back of a couch or on the end of the bed.
11. Furnishing and Accessorizing the Space
6 Display an eclectic array of artwork, even reproductions, in ornate, gilded frames. Mix modern with older pieces. Showcase framed sepia-toned photos of you and your family; the sepia tone will make the photos appear as if you are also a vampire. Hang a photo of your favorite vampire from the "Tru Blood" or Vampire Chronicles books.
12. Furnishing and Accessorizing the Space
7 Create a vignette on a table of small decorative items that a vampire might have accumulated over time. Display items like a vintage hairbrush, crystal wine goblet and an antique music box -- anything that he might have thrown in a knapsack before being run out of his manse by a pack of scared, flame-wielding villagers. Add a mercury glass bowl filled with red apples as a nod to the "Twilight" series.
Items you will need
Joint compound

80-grit sandpaper

Paintbrushes or rollers

Latex-based primer

Black latex paint, either flat or eggshell finish

Gray latex paint, either flat or eggshell finish

Black semi-gloss latex paint

Gray semi-gloss latex paint
Tip
Buy furnishings and accent pieces that you can use elsewhere should your vampire obsession subside. Repurpose Halloween decorations that you already have and adorn your mantel or a bookcase with artificial crows or candles in pewter candlesticks.
Warning
Don't paint the walls any shade of red, blood red or otherwise. Create a dramatic room by allowing the blood red and creamy white accessories to pop against the black or gray walls. Keep macabre items hidden, perhaps in a small coffin, lest your children find them and play show-and-tell with their friends.
Photo Credits
Hemera Technologies/Photos.com/Getty Images